Have you been good? To have an objective judgment, I wait for "Befana" the kindly old witch who brings children toys on Twelfth Night and in the meantime, I cook something for her, whether she is ever moved by the gesture!

Come on today we're having the traditional Epiphany sock but be careful it's salty!

    Yes, during Christmastime we have already abounded in sweets and some vegetables would not even hurt and this seems to me an excellent compromise to start the year with a foil!
MAKES 1 PIE
READY IN 30′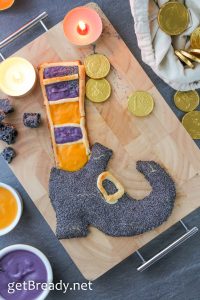 INGREDIENTS:
1 shortcrust pastry sheet (I used Stuffer)
all-purpose flour to taste
1 egg yolk+ 1 tablespoon water + 1 pinch salt
3 tablespoons poppy seeds
4 tablespoons fresh cheese
3 tablespoons pumpkin cream (click here for the recipe)
3 tablespoons red cabbage cream (click here for the recipe)
STEP 1: CUT OUT THE SHAPE

First, print the shape of the leg of Befana on a sheet of paper and cut it out. I found this on mary's website: https://maestramary.altervista.org/halloween-sagome.htm.
Unroll the shortcrust pastry, lay the cutout on top of the pastry and cut out the outline with a knife.
This is what you'll get:
Warning: do not throw away the remaining dough, but cut off a second shape of the shoe (in this way we will be able to stuff it later).
Knead what is left of the excess shortcrust pastry, roll it out with a rolling pin and cut into strips about 1 cm wide.
STEP 2: FILL THE SHOE

Take the outline of the shoe, brush it with the egg, water and salt mix and sprinkle it with poppy seeds.
Now take the outline of the whole leg and spread plenty of fresh cheese. Just be careful to keep 1 cm free towards the outside to make it easier later to close with the second part of the shoe.
Brush the dough with egg yolk+ water + salt mixture.
STEP 3: FILL THE SOCK

Take the strips of dough cut out in step 1 and use them vertically to create an outer edge of the sock, and horizontally to divide it into strips.
Alternate the pumpkin cream and the red cabbage cream in the strips obtained to recreate the typical fantasy of the witch sock:
STEP 4: CLOSE THE SHOE

Now overlap the part of the shoe with the poppy seeds on the other one by gently pressing on the outer edge of the shoe.
Just one detail is missing: twist one of the strips of dough cut out in step 1, then close it in a loop and place it on the shoe as if it were the buckle, brushing it with the mix.
STEP 5: COOK
Cook the pie in preeated oven at 220°C for about 15 minutes.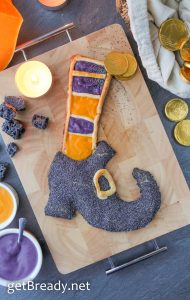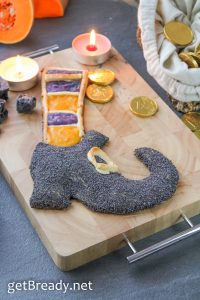 #getBready & enjoy your meal
Share on: