Pizza never tire me.

Last Christmas I received a very welcome gift: a nice piece of Alto Adige speck that I couldn't wait to use in my recipes!

So here's what I started with: a soft pizza with a slightly crunchy base, topped with a mix of cheese and of course sticks of fragrant speck.

Wonderful!
SERVES 4 people
READY IN 3h 30′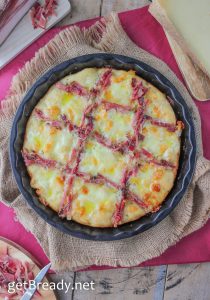 INGREDIENTS:
1 lb all-purpose flour
½ oz salt
1 cup warm water
½ oz brewer's yeast dissolved into 2 tablespoons warm water*
2 tablespoons extra virgin olive oil
2 oz speck
Oil to taste for the pan
1 tablespoon extra virgin olive oil
2 mozzarella
5,2 oz cheese to taste (asiago, fontal …)
Rosemary to taste
Salt to taste
*If you use cube yeast instead, dissolve half of it in 2 tablespoons of lukewarm water.
STEP 1: MAKE THE DOUGH
In a bowl, place the flour, the salt and ¾ cup warm water. Mix with a fork. Add the brewer's yeast  dissolved into 2 tablespoons warm water, the oil and the remaining water until you get a wet mixture. Put some flour on the pastry board. Then place the mixture in the centre and knead it quickly by hand (just for 5 seconds!!). Cover the dough with a kitchen rag and let it rise for 3 hours.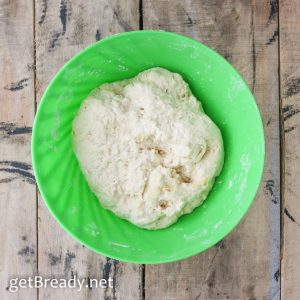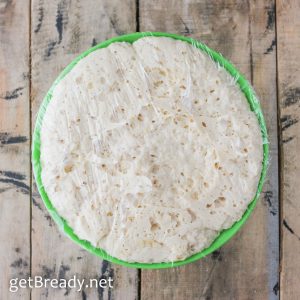 STEP 2: SLICE THE SPECK
Cut speck into thin strips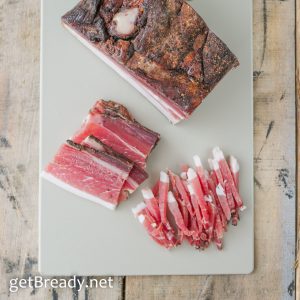 STEP 3: STUFF

Roll out the dough into a well-greased pan.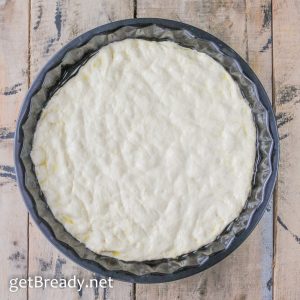 Spread a drizzle of oil on it,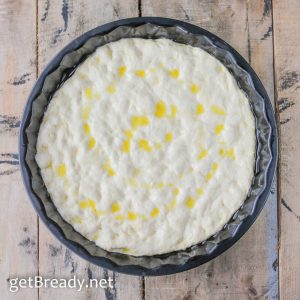 then add mozzarella and diced cheese.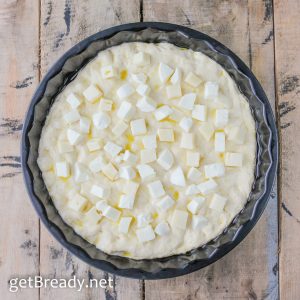 Now arrange the strips of bacon forming rows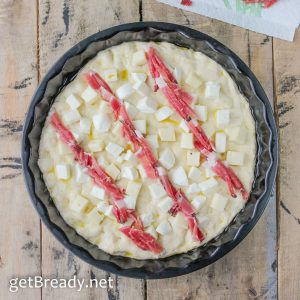 and continue in the same way on the opposite side to form a checkerboard design.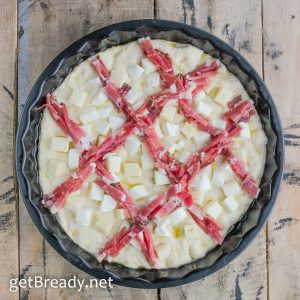 Season with a drizzle of oil, a pinch salt and crumbled rosemary.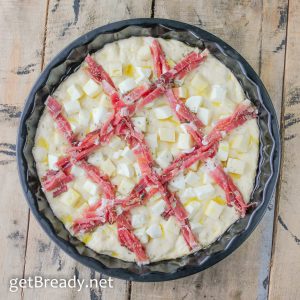 STEP 4: COOK
Bake in a preheated oven at 250 ° C for 20-25 minutes.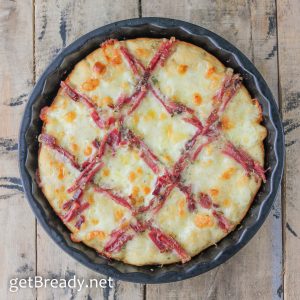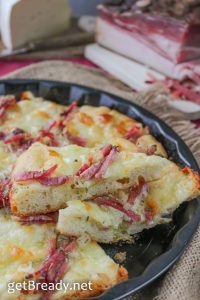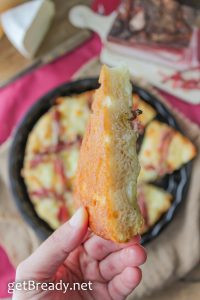 #getBready & enjoy your meal
Share on: