Some of us has a favorite recipe, other people love the latest fashion variation, or a home tradition on how to cook it… but we all agree on one thing: when summer arrives it's time for octopuses' salad!

    Here's my recipe! just a handful of ingredients and a tip on how to serve it: strictly lukewarm!
SERVES 4 PEOPLE
READY IN '50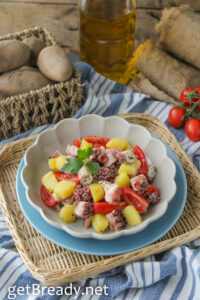 INGREDIENTS:
1 octopus (about 2 lb), cleaned
2 US quart water
2 bay leaves
½ glass extra virgin olive oil
Salt and pepper to taste
Juice of 1 lemon
1 tablespoon parsley, chopped
4 boiled potatoes
ab. 20 cherry tomatoes
STEP 1: BOIL THE OCTOPUS
Wash the octopus carefully under the water, then beat it with a meat mallet.
Heat a heavy-bottomed pot over high heat. Add the water and the bay leaves and take it to boil.
Add the octopus and let it cook for about 45 minutes.
After the cooking time, let the octopus cool into the cooking water.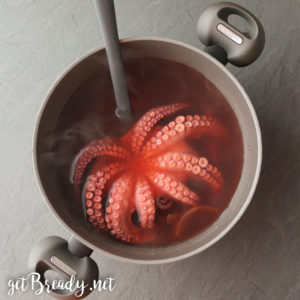 STEP 2: PREPARE THE DRESSING
In a small bowl mix together: oil, salt, pepper, lemon juice and parsley.
STEP 3: CUBE
Peel the potatoes and cut them into cubes (about 1×1 cm).
Do the same with the octopus
and slice the cherry tomatoes.
STEP 4: MIX THE SALAD
Place  cubed octopus, potatoes and cherry tomatoes in a bowl and add, little by little, the dressing.
Mix carefully!
A PIECE OF ADVICE: you can also prepare this recipe using a frozen octopus. In that case, you don't have to beat it with a meat mallet, but put it (still frozen) in boiling water and follow the other step of the recipe.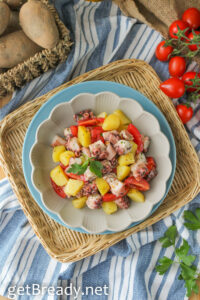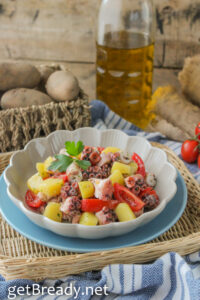 #getBready & enjoy your meal
Share on:
Salva
Salva
Salva