MAKES 500ML
READY IN  20'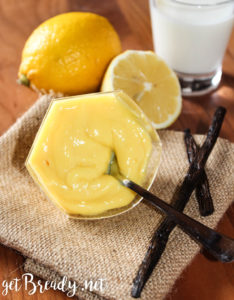 INGREDIENTS

4 egg yolks
4 oz sugar
3 oz all-purpose flour
2 cups milk
1 teaspoon lemon zest, grated
2 tablespoons sugar
1 teaspoon vanilla extract
pinch salt
1 tablespoon rum
STEP 1: WHISK THE EGGS
Whisk the yolks and  sugar together in a bowl until well blended (about 5-10 minutes). Then add the flour.
STEP 2: COOK
Place in a pan the milk, lemon zest, two tablespoons sugar, vanilla and salt. Mix thoroughly and bring to a boil.
STEP 3: ADD THE LAST INGREDIENTS
Reduce heat to low and simmer for 10 minutes adding the eggs mix previously prepared (step 1). Bring the mixture to a boil, then remove from heat and add the rum.
#getbready& enjoy your meal
share on:
Salva
Salva
Salva