MAKES 50 – 60 BITES
READY IN 40'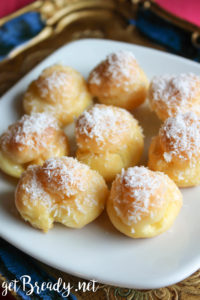 INGREDIENTS
1  ½ glass water
12 oz cold butter, cubed
1 pinch of salt
12 oz all-purpose flour
5 tablespoons milk
2 eggs
1 pinch vanilla extract
1 pinch sugar
Butter to taste (for baking tray)
1white chocolate bar
1 cup custard (click for the recipe)
3 tablespoons icing sugar
1 tablespoon water
Coconut flour to taste.
STEP 1: MAKE THE PASTRY
Combine the water, butter and salt in a pot and bring to the boil. Add the flour and stir continuously until the dough comes away from the sides of the pot. Transfer the mixture into a mixer adding little by little, the milk, the eggs, vanilla extract and sugar.
STEP 2: SHAPE THE BINGNÈ
Spoon the dough into a piping bag and pipe small mounds onto a greased baking tray, about 2cm apart. Cook for 12 minutes in preheated oven at 210°C.
STEP 3: MAKE THE FILLING
Melt chocolate and mix it with custard (click for the recipe).
STEP 4: FILL THE BIGNÈ
Put the cream into a piping bag, make a slit in each pastry and place a spoonful of filling inside.
STEP 5: APPLY THE FINISHING TOUCH
In a small bowl mix icing sugar and water to get your topping. Pour over the bignè the topping, cover with coconut  and serve.
#getBready & enjoy your meal
Share on:
Salva
Salva
Salva