An easy and beloved recipe! So creamed and savory.. really impossibile to resist. You only need four types of italian cheese to create a little piece of heaven. Let's start:
SERVES 4 PEOPLE
READY IN 12'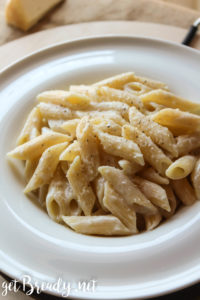 INGREDIENTS
Water and coarse salt to taste
1 lb "penne" pasta
2 tablespoons "Gorgonzola" cheese ( blue cheese)
2 tablespoons "Taleggio" cheese
1 tablespoon "Mascarpone" cheese
4 tablespoons milk
2 tablespoons Parmesan cheese
½ glass cooking water
Pepper to taste
STEP 1: COOK THE PASTA
In boiling salted water (the correct ratio provides 1 liter of water per pound of pasta and 12 g of salt per liter of water), cook penne (read on the package the cooking time).
STEP 2: MAKE THE CHEESE SAUCE
While pasta is cooking, place in a pan Gorgonzola, Taleggio and Mascarpone cheese and add milk. Let them melt (gently heat)., then add Parmesan cheese.
STEP 3: SEASON PENNE
Drain penne and mix them with cheese sauce. If necessary add some cooking water to get a creamier sauce.
Season with pepper and serve!
STEP 4: WEAR A TRACKSUIT AND GO JOGGING
That's not an advice, but the 4th step of the recipe!  🙂 🙂 😉
#getBready & enjoy your meal
Share on:
Salva
Salva