A real temptation! you can't resist them: so soft, tasty and .. homemade! Let's prepare them…
MAKES  12 SMALL FOCACCIA
PRONTO IN 3h 30'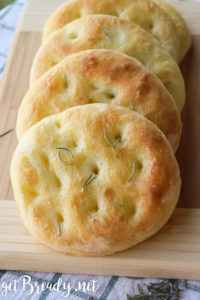 INGREDIENTS
10 oz lukewarm water + ½ oz brewer's yeast
9 oz all-purpose flour
4 oz semolina
2 tablespoons potato flakes
2 pinches salt
3 tablespoons extra virgin olive oil
Semolina and all-purpose flour to taste
4 tablespoons extra virgin olive oil
4 tablespoon s water
2-3 pinches salt
STEP 1: MAKE THE DOUGH
In a mixing bowl, blend: water +brewer's yeast, then add – little by little – all-purpose flour, semolina, potato flakes, salt and oil.
STEP 4: LET IT RISE
Cover the dough  with cling film and let it stand at room temperature for a couple of hours.
STEP 3: CUT THE DOUGH
Put some flour and semolina on the pastry board, then place the dough on it and cover with a bit semolina . Roll the dough out carefully by hand (1-2 cm thick), and cut 12 circles.
Place the circles  in a oiled baking tray.
STEP 4: SECOND RISE
In a small bowl mix oil, water and salt, then sprinkle the small focaccia with it and press fingers into the bread to make some holes. Let them rise into the oven (off!) for about 1 hour.
STEP 5: BAKE THE SMALL FOCACCIA
Bake in preheated oven at 210 °C for about 15-20  minutes. When ready sprinkle with other water/oil/salt mix.
#getBready & enjoy your meal
Share on:Salva
Salva
Salva