I just feel so sweet!  Here the recipe for a different meringue.. with a tasty lemon flavor!
MAKES 15 STUFFED MERINGUES
READY IN 2h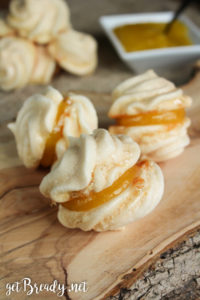 INGREDIENTS
2 egg whites
2,5 tablespoons  confectioner's sugar
1 teaspoon lemon juice
2,5 tablespoons confectioner's sugar
1 egg
2 lemons: juice and zest
2 tablespoons butter, cubed
5 tablespoons sugar
STEP 1: WHISK THE EGGS
In a bowl whisk egg whites to soft peaks. After 3-4 minutes add the confectioner's sugar and the lemon juice. Carry on whisking for 5 more minutes.
STEP 2: ADD THE OTHER INGREDIENTS
Add the remaining confectioner's sugar (little by little) while mixing carefully with a spatula.
STEP 3: SHAPE THE MERINGUES
Line a baking sheet with parchment paper. Using a piping bag squeeze the meringue mixing on it to create little mountains (equally spaced).
STEP 4: COOK THE MERINGUES
Cook in preheated oven at 100°C for 1h 45'minutes.
STEP 5: MAKE THE LEMON CURD
Beat the egg in a bowl.
In another pot whisk lemon (juice + zest), butter and sugar and cook in a waterbath for 8-10 minutes. Add now the egg and cook it for 10/15 minutes. With the help of a sieve temove the lemon zest.
FILL THE MERINGUES
Place a teaspoon of lemoncurd on the bottom of a meringue and close it with the bottom of another one.
#getBready & enjoy your meal
Share on: