Unfortunately summer may seem far away… but now is the time to plan it starting with a typical dish: the peppered mussels!
SERVES 4 PEOPLE
READY IN 20′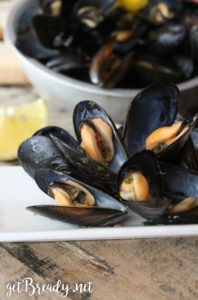 INGREDIENTS
3 lb mussels
2 tablespoons extra virgin olive oil
1 teaspoon onion, chopped
freshly gound pepper
STEP 1: CLEAN THE MUSSELS

Run mussels under cold water, then debear and scrub them. Finally rinse them well.
STEP 2: COOK

Let sautè onion in oil, add mussels and pepper and cover with a lid. Let mussels cook unitl opened (about 4 minutes).
A PIECE OF ADVICE:  Do you like fish? Yes? Take a look at my stewed cuttlefish and peas recipe!
#getBready & enjoy your meal
Share on: