Second course or appetizer? It doesn't matter: I always like eating them! So tasty and healthy at the same time thanks to vegetables and homemade ingredients.

MAKES 10 BITES
READY IN 35′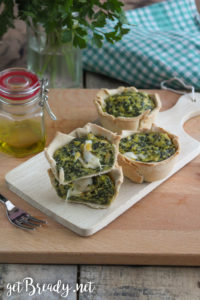 INGREDIENTS
1 deck of chard
2 tablespoons extra virgin olive oil
1 tablespoon onion, chopped
Salt to taste
½ glass water
2 eggs
Salt and pepper to taste
Marjoram to taste
2 tablespoons Parmesan cheese
1 bun (dippend in milk)
1 dough ball Shorstcrust pastry light (here the recipe)
all-purpose flour to taste
butter to taste
cheese to taste
STEP 1: MAKE THE FILLING

Wash the chard, remove the white part and cut finely the leaves. Place oil and onion in a pan and let sautè. Add the chard, salt and water and let cook covered with a lid for about 15 minutes. In a bowl beat the eggs, then add salt, pepper, marjoram and Parmesan cheese. Finally add the bun (squizzed) and the chard. Mix well with a fork.
STEP 2: ROLL OUT THE DOUGH

On a lightly flloured pastry board roll out the dough, the slice it into ab 12 squares.
STEP 3: PLACE INTO THE BAKING TIN

Spread butter into muffin tin, the place the squares into the muffin tin pressing with the fingers. Finally make some holes into the dough with a fork.
STEP 4: FILL
Fill the crust 3/4 full with the filling prepared on thep a and deep a cheese cube.
STEP 5: COOK
Cook the bites in preheated oven at 200°C for about 15 minutes.
#getBready & enjoy your meal
Share on: