My mum used to say to me : " If you don't have  meat broth, don't cook risotto". What's wrong with it?  The problem is that she said the same things with noodle soup too! 🙂 🙂


Seriously, a classical meat broth is the secret to cook authentic Italian food.
SERVES 4-6 PEOPLE
READY IN 3h 15'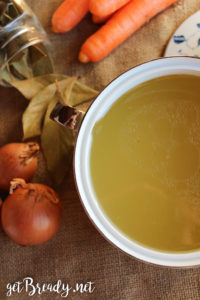 INGREDIENTS
1 carrot
1 onion
1 stick celery
1 tomato
1 piece chuck beef
4 beef ribs
1 chicken drumstick
2 chicken wings
3 US quart cold water
Vegetable stock powder to taste (here the recipe)
STEP 1: PREPARE THE VEGETABLES
Peel the carrot and cut it in three pieces, peel the onion and cut it in a half. Wash the celery and cut it in three pieces and wash the tomato.
STEP 2: ADD THE WATER
Place vegetables, meat and water in a large pot. Let them boil, then remove the foam and turn the heat to low. Cook for three hours.
STEP 3:  FILTER
Filter the broth, then add vegetable stock powder (when broth is still hot).
A PIECE OF ADVICE: For an unforgettable risotto use this delicious broth! You don't need to cook it each time, stock it into the freezer!
Click and look what you can make with boiled meat!
#getBready& enjoy your meal
Share on: