I love octopus.

SERVES 4 PEOPLE
READY IN 50'
INGREDIENTS
1 octopus (about 2 lb), cleaned
2 US quart water
1 carrot, sliced
parsley to taste
½ onion
1 stick celery
4 potatoes
1 teaspoon extra virgin olive oil
1 cup milk
1 tablespoon fresh parsley, chopped
Salt and pepper to taste
STEP 1: PREPARE THE OCTOPUS

Wash the octopus carefully under the water, then beat it with a meat mallet.
STEP 2: COOK THE OCTOPUS

Heat a heavy-bottomed pot over high heat. Add the water + vegetables and take it to boil.
Add the octopus and let it cook for about 45 minutes. After the cooking time, let the octopus cool into the cooking water.
STEP 3: MAKE THE PARSLEY CREAM

In the meantime:
peel and cube potatoes.
Let them sautè in a pan with oil for a couple of minutes, then add milk and let cook for 10-12 minutes (until soft).
Add parsley, salt, pepper and mix with an immersion blender until smooth.
Keep warm.
STEP 4: GRILL THE OCTOPUS

Drain octopus, slice it and season with oil, salt and peper. Grill octopus on a hot grill for 30-40 seconds on both sides.
Now place a spoonful of parsley cream into the dish and add two octopus tentacles. Enjoy!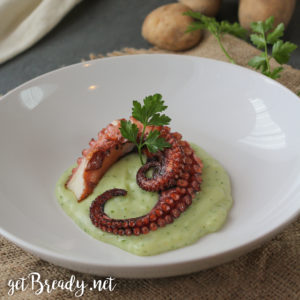 #getBready & enjoy your meal
Share on: