Perch is a type of fish that a really like because you can cook it in different ways and it's alwalys great! The taste is delicate and is very soft so that you can fry, grill or cook it: every time is a success! Anyway the way I like best is cooked with tomato sauce, olives and capers. Do you want to know my secret? A pinch of chilli ;-)but don't tell anyone!

SERVES 3 PEOPLE
READY IN 20'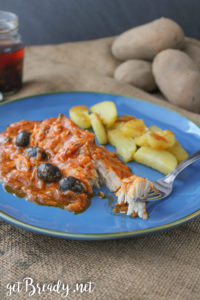 INGREDIENTS
1 nile perch fillet, large
1 teaspoon onion, chopped
2 tablespoons extra virgin olive oil
Rosemary to taste
¼ glass white wine, dry
1 cup mashed tomatoes
½  chilli pepper
2 tablespoons black olives
1 tablespoon capers
Salt and pepper to taste
Oregano to taste
STEP 1: REMOVE THE FISH BONES

Touch the surface of the fillet with your finger to check fishbones, then remove them with a pair of tweezers.
STEP 2: COOK THE FISH

Place onion and oil in a non-stick pan and let golden for 1 minute. Now add a pinch of rosemary and the fish fillet and cook on both sides for a minute.
STEP 3: ADD WINE AND TOMATO

Simmer with white wine until reduced (it takes about 2 min), then add tomatoes, chilli pepper, olives and capers. Finally add salt and pepper and cook for about 10 minutes.
STEP 4: ADD THE OREGANO

Before serving add some oregano.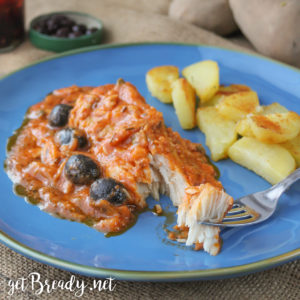 #getBready & enjoy your meal
Share on: