Today's keyword: health! oh no… maybe: light, mmm.. no: gluttony!

Here, today I have some difficulty in choosing the right words to describe this recipe because it has so many advantages 🙂

First of all it's really delicious (you know that in the list of pros this is my main priority!), it's made of  vegetables, therefore allied for health and then gets ready in a while (it cooks all-alone covered with a lid).

Come'on! Let'have a veggie meal!
MAKES 5 BITES (diameter 8 cm)
READY IN 25'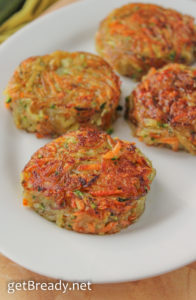 INGREDIENTS
1 large potato
1 carrot
1 zucchini
Salt and pepper to taste
1 teaspoon onion, chopped
1 teaspoon potato starch
Extra virgin olive oil to taste
1 teaspoon butter
STEP 1: GRATE VEGETABLE
Peel and grate the potato, the carrot and zucchini.
STEP 2: ADD THE OTHERS INGREDIENTS
Squeeze well vegetable, then place them into a bowl. Add salt, pepper, onion and potato starch. Blend with a spoon.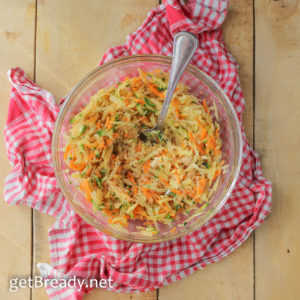 STEP 3: COOK THE ROSTI
Heat a large frying pan over a medium heat and add a tablespoon extra virgin olive oil and a teaspoon butter. Place a spoonful of mixture in the pan and gently try to push it down to create a circular shape.
Do the same with the remaining potato (you can also use a metal chef's ring to get a more regular shape).
Cook the rosti little cakes for 10 minutes on both sides (covered with a lid), until cooked inside and crispy on the outside.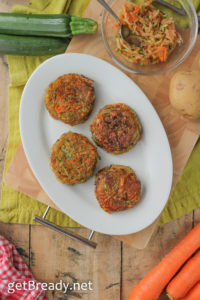 A PIECE OF ADVICE: have you ever tried speck and onion rosti? Or the traditional potato ones? Delicious!!
#getBready & enjoy your meal
Share on: