Very creamy: this is the word that in my opinion explains the taste of this particular lasagna.

Roasted chicken with vegetables releases an irresistible taste ideal if combined with the delicacy of the béchamel and the spinach freshness.

In short, if you are planning a lunch with guests, the right opportunity has come to try it!
SERVES 4-5 PEOPLE
READY IN 1h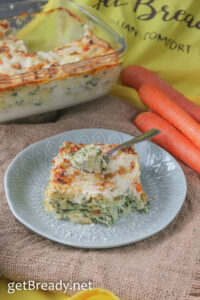 INGREDIENTS:
1 chicken breast (a big one)
1 carrot
1 celery stick
½ white onion
3-4 tablespoons extra virgin olive oil
rosemary chopped to taste
¼ glass white wine, dry
1 cup hot water
salt and pepper to taste
4 cubes frozen spinach
water and coarse salt to taste
2 cups béchamel sauce (click for the recipe)
8,8 oz ricotta cheese
2 tablespoons Parmigiano cheese
salt and pepper to taste
1 packaging fresh pasta sheets (I used sfogliavelo Rana)
2-3 cups béchamel sauce
1 tablespoon Parmesan cheese
butter to taste
STEP 1: COOK THE CHICKEN
Cut the chicken into cubes removing bones. Peel the carrot and chop it, do the same with onion and celery.
Place oil, vegetables and rosemary in a non-stick pan and let sautè for 3-4 minutes.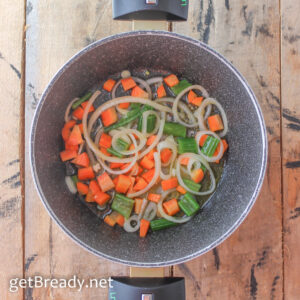 Now add the chicken cubes and let them brown (it'll take ab 8-10 minutes).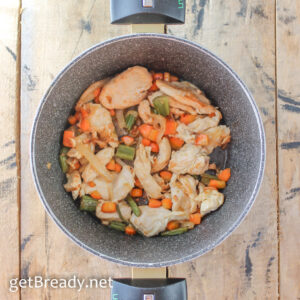 Simmer with white wine until reduced, then add water salt, pepper and cook for ab. 20 minutes covered with a lid.
STEP 2: BOIL THE SPINACH
While the chicken is cooking, boil the spinach in salted boiling water, then drain and sqeeze them.
STEP 3: COMBINE THE FILLING INGREDIENTS
Place cooked chicken in a bowl and add spinach, béchamel sauce, ricotta cheese and Parmesan. Add salt and pepper and mix.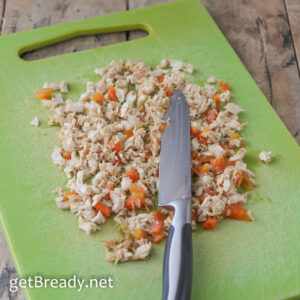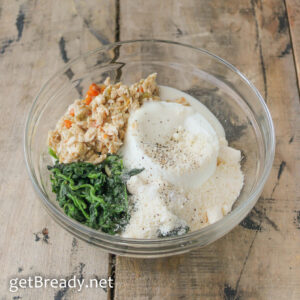 STEP 4: MAKE PASTA SOFT
Place hot water in a bowl and deep pasta sheets into it (one at a time) for 5 seconds, then place them on a kitchen towel.
STEP 5: MAKE LASAGNA LAYERS
Place one spoonful of bèchamel sauce in a baking tin.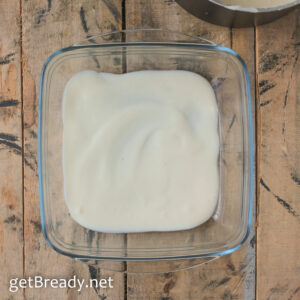 Place a pasta layer,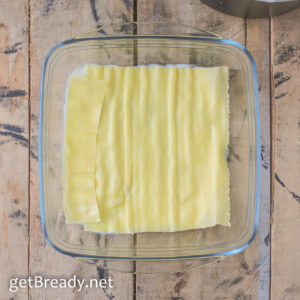 cover with the filling prepared on step 3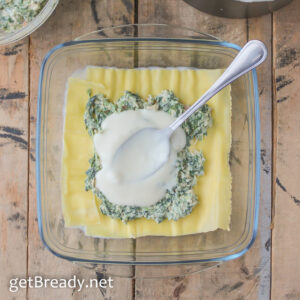 and sprinkle with Parmigiano.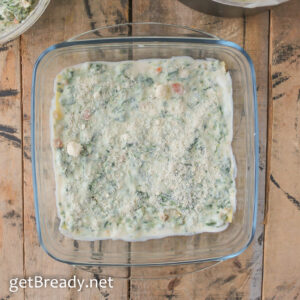 Do the same til the top finally adding butter.
STEP 6: COOK
Cook spinach and chicken lasagna in preheated oven at 180°c for 20 minutes.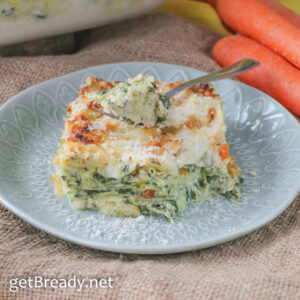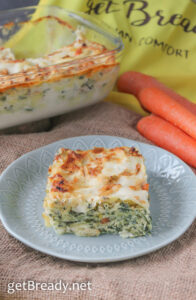 #getBready & enjoy your meal
Share on: