How to celebrate Christmas with food too? With delicate and yummy sweets!

Enjoy cooking and decorating delicious meringues with your children.

MAKES ab. 15 MERINGUES
READY IN 2h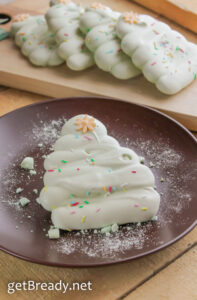 INGREDIENTS:
2 egg whites
2,5 tablespoons confectioner's sugar
½ lemon juice
Green food coloring to taste
2,5 tablespoons confectioner's sugar + 1 teaspoon vanilla extract
Sugar decorations to taste
STEP 1: WHISK THE EGGS
In a bowl whisk egg whites to soft peaks. After 3-4- minutes, add the confectioner's sugar,  the lemon juice and the food coloring. Carry on whisking for 5 more minutes.
STEP 2: ADD THE OTHER INGREDIENTS
Add the remaining confectioner's sugar (little by little) and vanilla extract mixing carefully with a spatula.
STEP 3: SHAPE THE TREES
Line a baking tray with parchment paper. Using a piping bag, squeeze the meringue mixture on the sheet to create triangles. Now decorate the triangles with sugar stars and balls.
STEP 4: COOK THE MERINGUES
Cook the meringues in preheated oven at 100°C for1h 45'minutes.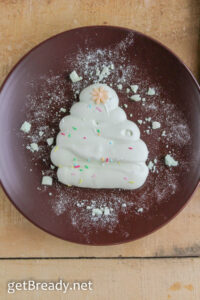 #getBready & enjoy your meal
Share on: