Whether served broth or dry, dumplings are a complete and nutritious main course.

 So many ways to make them: with vegetables, meat or cheese… and the result is always an extraordinary recipe, rich in taste.

After the delicious experience with radicchio, I've tried a new version with red cabbage (or purple cabbage? I never know how to name it!) And I'm really happy! It's so good!

I recommend them, they are light but at the same time tasty and above all 100% natural.
MAKES AB. 16 SMALL DUMPLINGS

READY IN 50′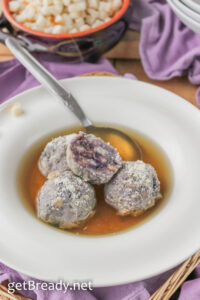 INGREDIENTS:
1 tablespoon onion, chopped
1 tablespoon butter
1 tablespoon extra virgin olive oil
1 red cabbage ball
¼ glass red wine
½ glass hot water
Salt to taste
9 oz of stale bread, cubed (approx 0.5 x 0.5 cm)
2 eggs
½ glass of warm milk
1 tablespoon grated Parmesan cheese
Salt and pepper to taste
Broth to taste
Parmigiano to taste
STEP 1: COOK THE RED CABBAGE

Cook onion in oil and butter for a couple of minutes. Add sliced red cabbage and cook for 2 more minutes. Simmer with wine until reduced, then carry on cooking for 10 minutes adding some water and salt.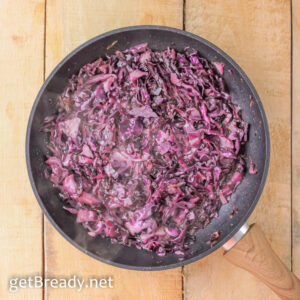 STEP 2: MAKE THE MIXTURE
Blend the cabbage to get a cream.
Transfer the cabbage into a bowl and add bread, eggs, milk and Parmesan cheese.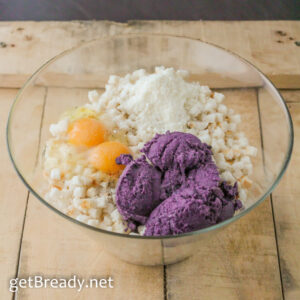 Hand mix with caution to maintain the porosity of the bread, then add salt and pepper.
Let the mixture stand for 15 minutes.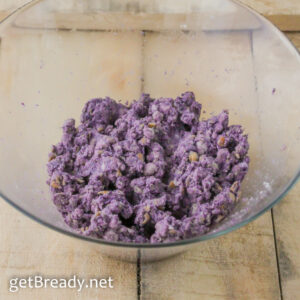 STEP 3: MAKE THE DUMPLINGS
If the mixture is sticky add a little flour, if it is not, congratulation it's perfect! Take a tablespoon of mixture and form a ball with a diameter of ca. 4-5 cm.
STEP 4: COOK
Boil the dumplings in hot broth for ab. 15 minutes, then sprinkle with Parmigiano cheese.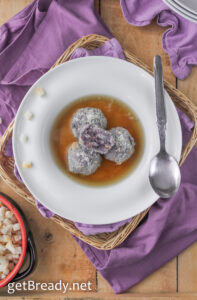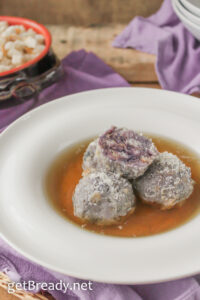 A PIECE OF ADVICE: Do you like canederli? Why don't you try  TRADITIONAL SPECK DUMPLINGS, i SPINACH DUMPLINGS WITH CHEESE LAVA,  CHICORY DUMPLINGS WITH CHEESE FONDUE,  SPINACH DUMPLINGS FROM TRENTINO
#getBready& enjoy your meal
Share on: