Excellent as a side dish but not only! Stir-fried artichokes are an ideal ingredient for thousand recipes: risotto, lasagna, crepes, meatballs, scones and so on and so forth.

So: if until now you have been afraid of the idea of ​​facing a raw artichoke, it's time to learn how to clean and cook them with the step-by-step instructions I'm giving you.

Once you have tasted fresh artichoke, I assure you, you wonn't turn back!
SERVES 3-4 PEOPLE
READY IN 30′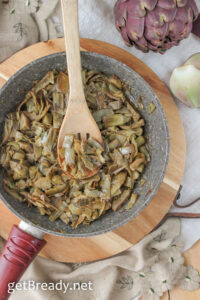 INGREDIENTS:
4 artichokes
Water and lemon juice to taste
2 tablespoons extra virgin olive oil
1 tablespoon chopped onion
Salt to taste
STEP 1: CLEAN THE ARTICHOKES
Rub your hands with lemon juice to avoid staining them cutting artichokes.
Take an artichoke and cut the tip with a knife. Start removing by hand the outer leaves (the hard ones) until you reach the heart.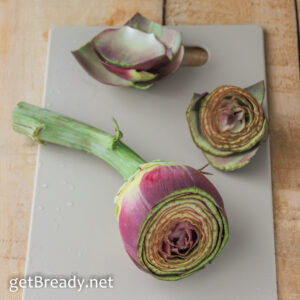 Cut the stem of the artichoke and peel it with a potato peeler until you reach the inside part. Cut the artichoke into pieces of approx 0.5 x 0.5 and put them into the water bowl  prepared before.
Continue cutting in half the hearts of artichokes and remove the beard kept inside.
Important: while working with the knife, keep cutten artichokes in water to prevent them from blackening.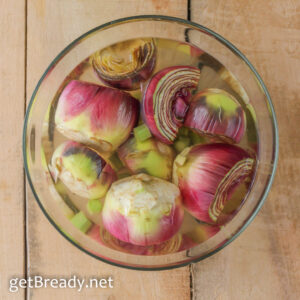 Take all the cutten parts of artichokes and cut into strips.
STEP 2: SAUTE'
Place oil and onion in a pan and let it brown.
STEP 3: ADD THE ARTICHOKES
Add sliced ​​artichokes and cook with the lid on for about 8-10 minutes.
Add salt and cook 15 more minutes.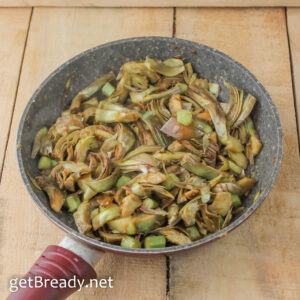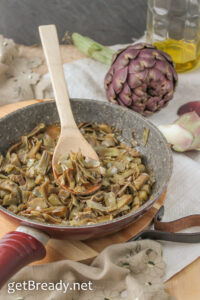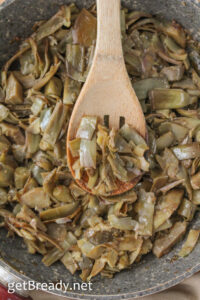 A PIECE OF ADVICE: Are you looking for an artichoke recipe? Click here!
#getBready & enjoy your meal
Share on: