A classical snack that mums used to give their children… in my homemade version 😉 let's bake chocolate hot pockets!
MAKES 6-8 HOT POCKETS
READY IN 7h (or more, depending on resting time)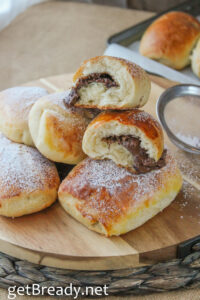 INGREDIENTS:
12 oz all –purpose flour
½ oz yeast dissolved into ½ glass lukewarm milk
3 oz sugar
1 egg
2 oz butter (room temperature)
1 pinch salt
Lemon zest to taste
All-purpose flour to taste (for the pastry board)
1 egg yolk, beaten
STEP1: MAKE THE DOUGH
Ina  bowl mix together the first seven ingredients for about 10 minutes (until smooth).
STEP 2: LET IT RISE
You have two options:
let the dough rise at room temperature for about 4 hours covered with cling film.
place the bowl covered with cling film into the fridge and let it rest all night long. The day after remember to remove the bowl from the fridge 1 hour before step 3.
I suggest you the second option 😉
STEP 3: SHAPE THE POCKETS
Put some flour on the pastry board, then place the dough on it and roll it out using a rolling pin.
Cut 6-8 rectangles and place a tablespoon Nutella in the centre of each one. Close the pocket by rolling them up. Make sure to close the borders well with fingers.
Cover a baking sheet with baking paper. Place the pockets on it (not too close) and sprinkle them with the beaten egg yolk.
STEP 4: THE LAST REST
Let the pockets rest into the oven (turned off!) for a couple of hours.
STEP 4: COOK THE POCKETS
Cook the pockets in preheated oven at 180° for 20 minutes.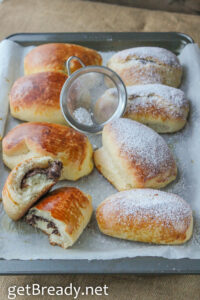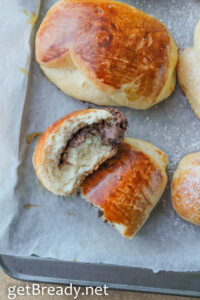 #getBready & enjoy your meal
Share on:
Salva
Salva