SERVES 4 PEOPLE
READY IN 40'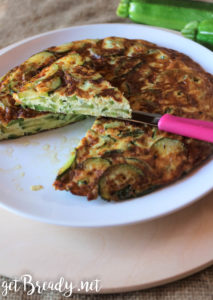 INGREDIENTS
1 teaspoon onion, chopped
2 tablespoons extra-virgin olive oil
4 medium zucchini cut into round
2 – 3 eggs
2 tablespoons grated Parmesan cheese
Salt, pepper, marjoram to taste
1 tablespoon extra-virgin olive oil
1 teaspoon butter
STEP 1: COOK THE ZUCCHINI
In a skillet sauté the onion. Add the zucchini and cook over a medium heat for about 10-15 minutes.
STEP 2: COMBINE THE INGREDIENTS
In a bowl beat the eggs, then add the fried zucchini, Parmesan, salt, pepper and marjoram. Mix thoroughly.
STEP 3: COOK THE OMELETTE
In a skillet, melt the butter into the hot oil, then pour the mixture of eggs and zucchini mashing with a fork so that it distributes evenly in the pan. Cover with a lid and cook the omelet turning over a couple of times.
#getbready & enjoy your meal
Share on:
Salva
Salva
Salva
Salva
Salva
Salva
Salva
Salva
Salva
Salva
Salva
Salva
Salva
Salva
Salva
Salva
Salva