SERVES 4 PEOPLE
READY IN 15'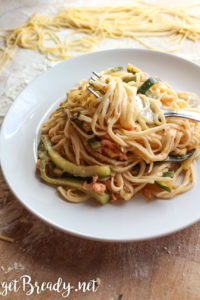 INGREDIENTS
3 tablespoons extra virgin olive oil
1 teaspoon onion, chopped
3 zucchini, sliced into strips
Salt to taste
4 ½ oz smoked  salmon
¼ glass white winw, dry
4 tablespoons tomato sauce
9 oz  fresh tagliolini  (here the recipe!)
Water and coarse salt to taste
Cream to taste
Pepper to taste
cooking water to taste
STEP 1: COOK THE ZUCCHINI
In a skillet sauté the onion into the oil. Add the zucchini, the salt and cook over a medium heat for about 5 minutes.
STEP 2:  ADD THE OTHER SAUCE  INGREDIENTS
Add the salmon and mix carefully, then simmer with white wine until reduced. After that add the tomato sauce and cook for a couple of minutes.
STEP 3: COOK THE TAGLIOLINI
In boiling salted water (the correct ratio provides 1 liter of water per pound of pasta and 12 g of salt per liter of water), cook the tagliolini (for fresh tagliolini about 4-5- minutes). Just before drainig them, pick up half a cup of cooking water and keep it aside.
STEP 4: SEASON THE TAGLIOLINI
Place the tagliolini into the sauce skillet and add cream and pepper to taste (if necessary add cooking water).
#getBready & enjoy your meal
Share on:
Salva
Salva
Salva
Salva
Salva