Cima is a typical ligurian recipe that my aunt used to cook when me and my family went to visit her.

It's very rich in ingredients and – as you can imagine –  takes more than 10 minutes to be prepared… as tradition demands 😉
SERVES 4-6 PEOPLE
READY IN 4 h e 30'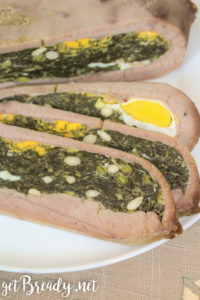 INGREDIENTS
3 tablespoons extra virgin olive oil
1 slice onion
1 lb beet tops or spinach or sticks, sliced
2 teaspoons peas (fresh or frozen)
Salt to taste
3 eggs
2 tablespoons Parmesan cheese
1 teaspoon pine nuts
1  teaspoon marjoram
1 calf pocket (about 25×18 cm) (= is a traditional cut of meat)
2 eggs
1 little carrot
1 stick celery
½ onion
Coarse salt to taste
2 US quart cold water
STEP 1: COOK THE VEGETABLES
Finely chop the onion and place it  into the pan with oil. Add beet tops, peas and salt and cook for about 15 minutes.
STEP 2: MAKE THE FILLING
Place vegetables in a bowl adding eggs, Parmesan cheese, pine nuts and marjoram.
STEP 3: FILL THE CALF POCKET
Using a spoon, fill the calf pocket with the filling (prepared on step 2) adding also the two eggs (absolutely not beaten!). Care not to break the yolks and not to insert too much filling to prevent the break of the cima.
Once done knit the edges with needle and thread.
STEP 4: COOK THE CIMA
Place the stuffed meat in a big pot with  the carrot, the celery, the onion, the salt and cover with cold water.
Turn the heat on and let the meat boil for about 1,5 – 2 hours (you'll get a delicious broth too.
STEP 5: PRESS THE CIMA
Place the cooked cima in a dish, cover it with another one and put something heavy on it (for example a heavy pan/pot). Place the cima into the fridge for a couple of hours and then slice it!
#getBready& enjoy your meal
Share on:
Salva
Salva
Salva
Salva
Salva