Why to prepare bacon wrapped drumsticks?

Because they're made of genuine ( and cheap!) ingredients
Because they're easy to prepare and… they melt in your mouth!!!
SERVES 4 PEOPLE
READY IN 35'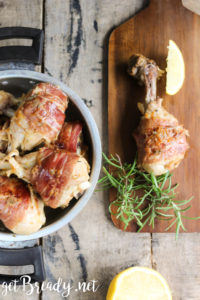 INGREDIENTS
8-10 chicken drumsticks
15 slices bacon
2 tablespoons celery, carrot and onion, minced
4 tablespoons extra virgin olive oil
1 teaspoon Rosemary, minced
½ glass white wine, dry
1 cup hot water
Salt to taste
STEP 1: WRAP THE DRUMSTICKS
Helping whit a knife, remove the skin of the chicken, then wrap each drumstick in bacon (1-2 slices for each drumstick).
STEP 2: SAUTÈ THE VEGETABLES
Place in a large frying pan: celery, carrot, onion and oil. Let them brown for about 2 minutes, then add rosemary.
STEP 3: COOK THE DRUMSTICKS
Add the drumsticks to the pan and let them brown on all sides (about 2-3 minutes). Simmer with white wine until reduced, then add hot water, salt and let it cook for 30 minutes on low heat.
#getBready & enjoy your meal
Share on:
Salva
Salva
Salva
Salva
Salva