Apple fritters recalls me home, especially one of my neighbors. In fall she used to give us these gluttonies making us so happy
SERVES 4 PEOPLE
READY IN 15'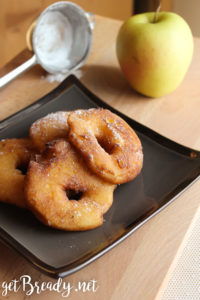 INGREDIENTS
2 eggs
1 pinch salt
1 glass milk
1 glass all-purpose flour
½ teaspoon baker's yeast
2 apples
lemon juice
Frying oil to taste
Icing sugar to taste
STEP 1: MAKE THE BATTER

Beat the eggs, then add salt, milk, all-purpose flour and baker's yeast. Mix well with a whisk.
STEP 2: CUT THE APPLES

Peel the apples and remove the core. Slice the apples 5 mm thick, then place them in a bowl with the juice of a lemon (to prevent the blackening ).
STEP 3: COOK THE FRITTERS

Place the oil in a pan with stuffed edges and warm it (not to much or the apple fritters won't cook well inside).
Depp the fritter in the batter, then place them into the oil for  a coiple of minutes.
STEP 4: ADD ICING SUGAR

Drain the fritters, place them on paper towel and sprinkle with icing sugar.
#getBready & enjoy your meal
Share on:

Salva
Salva
Salva