In Italy we usaully end the meal with a liqueur… but are we sure of what we drink? I prefer do the liqueur by myself! it's very easy and fruit-based!
MAKES 2 LITERS
READY IN 2days 30′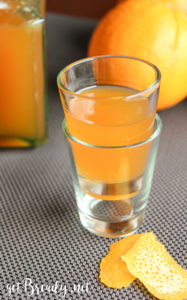 INGREDIENTS
4 oranges zest
1/2 US quart alcohol  95°
1/2 US quart rum
1/2 US quart water
1/2 US quart orange juice
2 lb sugar
4 tablespoons sugar
STEP 1: INFUSE
Deep oranges zest in alcohol+rum mixture and let them rest in a ziploc bag for 2 days, then filter. Put aside.
STEP 2: MAKE THE SYRUP

Boil water, orange juice and sugar for 10 minutes, then put it aside.
STEP 3: MAKE THE CARAMEL

Melt the sugar on low heat till it gets brown. Add it – little by littl – to the syrup prepared on step 2.
STEP 4: COMBINE ALCOHOL AND SYRUP
When cold,  combine rum+alcohol and syrup. Transfer the liqueur in a bottle and store it in a cool place.
#getBready & enjoy your meal
Share on: