It's a piece of cake! Sweet, coloured, and kid-friendly! let's have fun together by making these original breadsticks!
MAKES ABOUT 20 BREADSTICKS
READY IN 15′
INGREDIENTS
1 sweet shortcrust pastry sheet (I used Stuffer)
1/2 chocolate bar
colourful edible decoration (I used Panenageli)
STEP 1: CUT THE SHORTCRUST PASTRY SHEET
Slice the shortcrust pastry sheet into about 20 pieces.
STEP 2: COOK
Cook the slices in preheated oven at 200°C for about 8-10 minutes.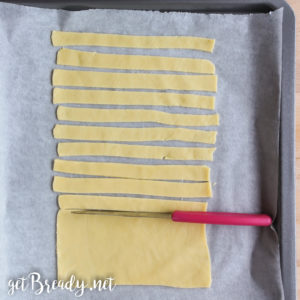 STEP 3: MELT THE CHOCOLATE
Place the chocolate in a small pan and melt it in a water bath.
STEP 4: DECORATE
When cold, deep the sticks into the melted chocolate and sprinkle with colourful decorations.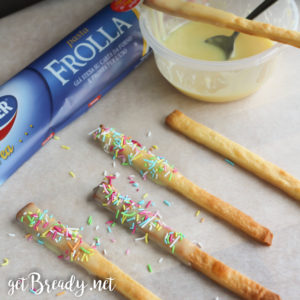 #getBready & enjoy your meal
Share on: