Jam tart is a very traditional sweet and that's why it's not so easy to make a tasty version. The one I like best is my mum's  jam tart: crumbly texture and fragrant arome are the secrets (ops .. her secrets) to make this delicious dessert.
SERVES 6 PEOPLE
READY IN 1h 30'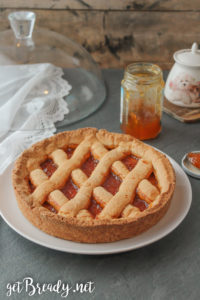 INGREDIENTS
2 cups all-purpose flour
1 egg
1 egg yolk
5 oz butter (cubed and cold)
5 oz sugar
1 teaspoon baking powder
1 pinch salt
1 pinch lemon zest
all-purpose flour to taste
butter to taste
1 apricot jam
STEP 1: MAKE THE CRUST

Place all-purpose flour on the pastryboard. Make a hole in the centre and place eggs into it. Start blending with a fork and gradually add all-purpose flour, sugar, cubed butter, baking powder and salt.
Knead by hand to get a ball, then wrap the dough into clingfilm and put it into the fridge for 20 minutes.
Altetnatively put all ingredients in a mixer and mix for 15-20 seconds.
STEP 2: ROLL OUT THE DOUGH

Remove the dough from the fridge and remove the clingfilm . Now cut it into two parts: 1/3 and 2/3 (put the smallest one aside).
Put some flour on the pastryboard , the roll it out using a rolling pin and make a circle shape a little bigger than the baking tin (in order to make borders).
Spread the baking tin with soft butter and cover with flour, removing the excess. Now place the dough sheet into the baking tin and press with fingers.
STEP 3: FILL
Fill the crust with spoonfuls of jam.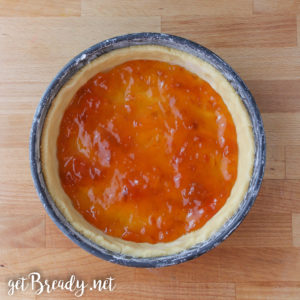 STEP 4: COVER WITH THE STRIPES

Divide the remaining dough piece into 5 or 6 stripes, rollo them out to make snakes and place them on the pie pressing the ends to fix them.
STEP 5: COOK
Cook the pie into preheated oven at 180°C for 45 minutes.
#getBready & enjoy your meal
Share on: