It takes only 5 minutes, I sware! 

Those for last minute dinners, when you come back home, open the fridge and have two chances: cry or invent something with those few ingredients that look at you from the fridge.

What's the secret to make perfect tomato eggs? Only one: don't overcook them!
SERVES 2 PEOPLE
READY IN 5′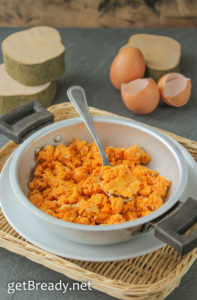 INGREDIENTS:
1 teaspoon onion, chopped
1 tablespoon extra virgin olive oil
1 cup toamto sauce (here my recipe)
3 egs
salt to taste
STEP 1: COOK THE SAUCE

Sautè onion in oil for 1 minute, then add tomato sauce.
STEP 2: ADD THE EGGS

Add the eggs and salt.
Mix eggs and tomato sauce using a fork.
Cook just until egg whites get from transparent to white (so you'll get soft eggs).
#getBready & enjoy your meal
Share on: