So easy but very very tasty: it's my puff pastry pie with potatoes, fresh cheese and sausage!

A practical idea for lunch or dinner ideal if accompanied by a fresh salad.

You simply can't say no.
SERVES 2-4 PEOPLE
READY IN 20′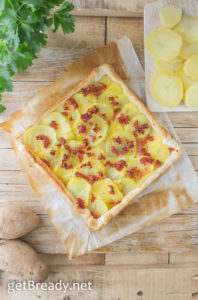 INGREDIENTS:
2 potatoes, large
water and coarse salt to taste
3-4 sausages
1 puff pastry sheet, rectangular
ab 12 oz fresh cheese (I used "crescenza")
salt to taste
extra virgin olive oil to taste
rosmary to taste
STEP 1: BOIL THE POTATOES

Peel and finely slice the potatoes.
Boil potatoes in hot salted water for ab. 3-4 minutes, then drain.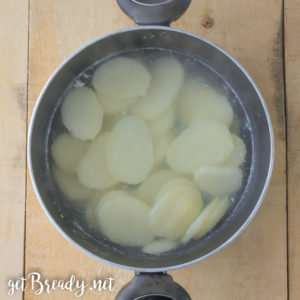 STEP 2: BROWN THE SAUSAGES

Remove the gut and slice the sausages
Brown then in a non-stick pan for 5 minutes (don't add anything else!).
STEP 3: FILL
Roll out the puff pastry sheet and slice it to get a square.
Place the puff pastry sheet into the baking tin on parchment papaer sheet. Uso cutten puff pastry strings to create borders (press with fingers to fix them).
place a potato layer on the puff pastry
Add fresh cheese
and half sausages.
Cover with a second potatoes layer,
and the ramining sausages
Finally add salt, oil and rosemary to taste.
STEP 4: COOK
Cook the pie in preheated oven at 230°C for ab.18 minutes.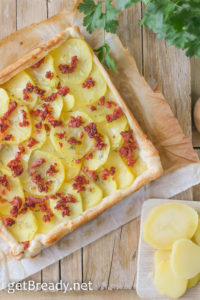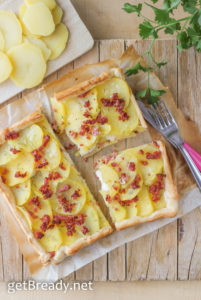 #getBready & enjoy your meal
Share on: