A famous saying goes like this: "don't throw food away!" So, when you cook too much purée at lunch you absolutely have to find a way to make something else with it… and there are so many ways to reuse it!  I admit that I often leave it on purpose to have the chance to make new recipes😉

    So let your imagination run wild, strictly inspired by what we have in the fridge and pantry: tomato sauce, cheese and tuna…

    Today pan-fried scones for everyone!
MAKES 6-8 SCONES
READY IN 30'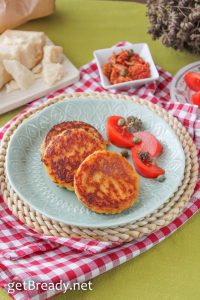 INGREDIENTS:
1 tablespoon extra-virgin olive oil
3-4 tablespoons tomato puree
Salt and oregano to taste
1 teaspoon capers
2,8 oz tuna in oil (drained)
17,5 oz mashed potatoes (leftover puree)
1 egg
1 tablespoon flour 00
2 tablespoons breadcrumbs
2 tablespoons Parmigiano
salt, pepper and nutmeg to taste
2 tablespoons extra virgin olive oil
1 teaspoon butter
1 slice cheese (the one you prefer)
STEP 1: MAKE THE FILLING
Place oil and tomato sauce in a pot and turn the heat on. Add salt, oregano, capers and tuna and cook for ab 2-3 minutes (it's enough to dry the sauce).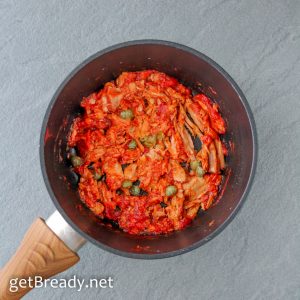 STEP 2: MAKE THE DOUGH
Mix purée, egg, flour, breadcrumbs, Parmigiano in a bowl and add salt, pepper and nutmeg.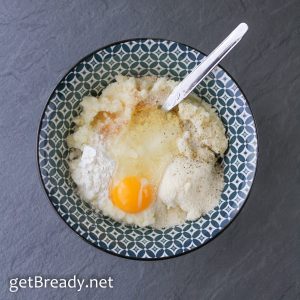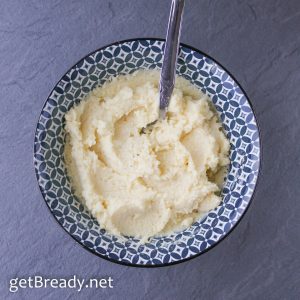 STEP 3: PUT IN THE PAN
Melt butter in oil in a non-stick pan.
Now put 1 spoon of mixture into a circle cookie cutter making a uniform layer with a fork (if you don't have it you can do it freehand).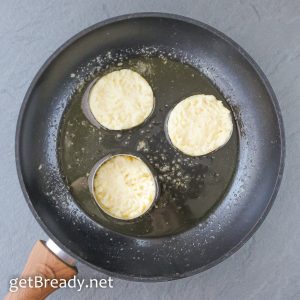 Add a teaspoon of filling,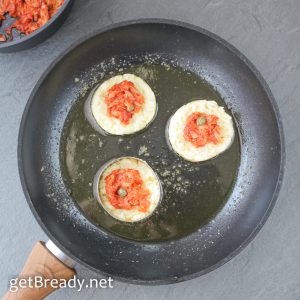 and a bit of cheese,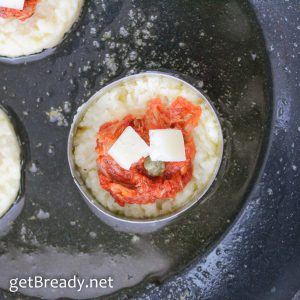 then put another spoon of mixture on spreading it in order to cover the filling. With the fork you can now pick up the outermost part of the pies by pushing them towards the center, as if to contain (in this way it will have a more regular shapes).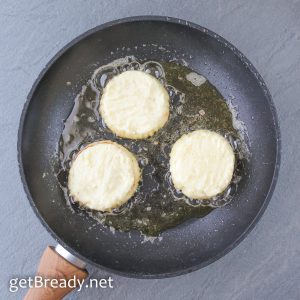 STEP 4: CONTINUE COOKING
Cover the pot with a lid and cook over medium-low heat for about 15 minutes (check that it doesn't burn or lower the heat).
Turn the scones upside down and continue cooking for 10-15 more minutes.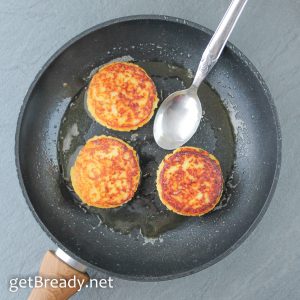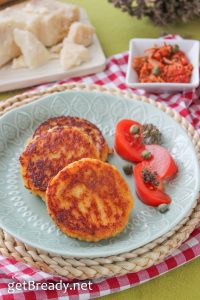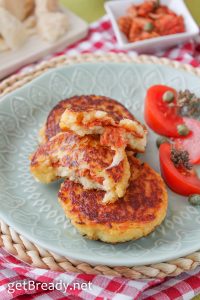 #getBready & enjoy your meal
Share on: