Maybe I don't want to think about the upcoming autumn, but today I'd like something decidedly summery … and what's better than a freshly picked vegetables basket?

        Thanks to the amount of eggs I have accumulated in the refrigerator (I always stock up because I use a lot of them but this time I exaggerated) I then decided to prepare a mixed vegetable omelette.

    Do you want to know a little secret not to make it spongy?

    Then you shouldn't miss the recipe!
SERVES 5-6 PEOPLE
READY IN 1h
INGREDIENTS:
1 carrot
ab 15-20 green beans
water and coarse salt to taste
½ onion
2 zucchini
4-5 cherry tomatoes
5 eggs
3 tablespoons Parmigiano cheese
parsley, chopped to taste
3,5 oz ricotta cheese
salt to taste
pepper to taste
½ glass milk
STEP 1: PREPARE THE VEGETABLES
Peel the carrot and cut it into small cubes. Remove the ends from the green beans.
Cook the vegetables in lightly salted water for about ten minutes (first dip the green beans and then add the carrots because they have different cooking times).
Now cut the onion and courgettes in slices and cherry tomatoes in wedges.
STEP 2: MAKE THE OMELETTE

Put in a bowl: eggs, Parmesan, parsley, ricotta (this will help the omelette to remain soft but not spongy and will allow you in the next step to add the vegetables without sinking), salt and pepper.
Mix with a fork.
Add milk.
STEP 3: COOK
Line the baking tray with parchment paper and add the omelette mixture.
Add vegetables.
Cook the omelette in preheated oven at 180°C for ab 40-45 minutes. (or more if necessary!)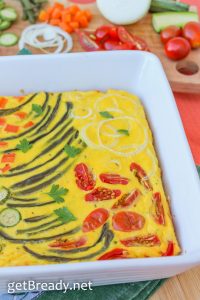 #getBready & enjoy your meal
Share on: