November is not only the transition month towards Christmas, but it brings a beautiful gift: artichokes!

So: what about velvety pasta? Sure!

Ideal for everyday lunch but, if you choose a particular pasta shape, it can become very chic! I chose "calamarata" a stunning idea for Sunday lunch… do you like the idea?
SERVES 4 people
READY IN 30′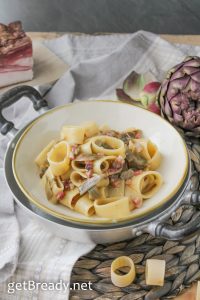 INGREDIENTS:
2 artichokes
Water and lemon juice to taste
2 tablespoons extra virgin olive oil
1 tablespoon chopped onion
Salt to taste
3 tablespoons cubed speck
1 tablespoon extra virgin olive oil
water and coarse salt to taste
12 oz pasta
2 tablespoons Parmigiano
STEP 1: CLEAN THE ARTICHOKES
Rub your hands with lemon juice to avoid staining them cutting artichokes.
Take an artichoke and cut the tip with a knife. Start removing by hand the outer leaves (the hard ones) until you reach the heart.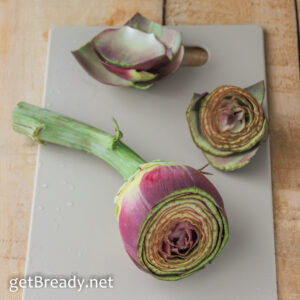 Cut the stem of the artichoke and peel it with a potato peeler until you reach the inside part. Cut the artichoke into pieces of approx 0.5 x 0.5 and put them into the water bowl  prepared before.
Continue cutting in half the hearts of artichokes and remove the beard kept inside.
Important: while working with the knife, keep cutten artichokes in water to prevent them from blackening.
Take all the cutten parts of artichokes and cut into strips.
STEP 2: COOK ARTICHOKES

Place oil and onion in a pan and let it brown. Add sliced ​​artichokes and cook with the lid on for about 8-10 minutes.
Add salt and cook 15 more minutes.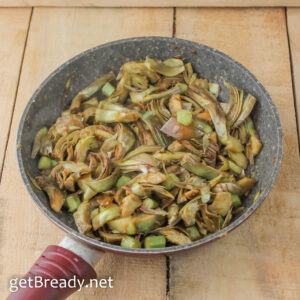 STEP 3: BROWN SPECK

Slice speck into small cubes,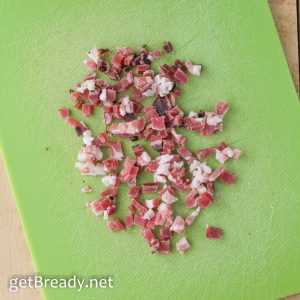 brown speck with oil for 1 minute.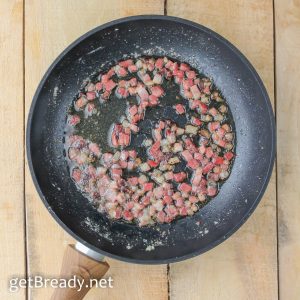 add it to the artichokes pan.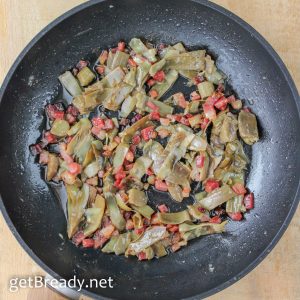 STEP 4: COOK PASTA

While the sauce is cooking, cook pasta.
In boiling salted water (the correct ratio provides 1 liter of water per pound of pasta and 12 g of salt per liter of water), cook pasta. Just before drainig them, pick up half a cup of cooking water and keep it aside.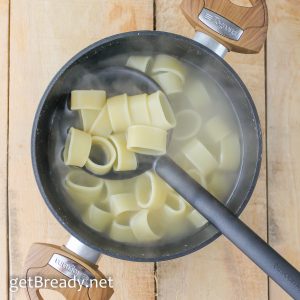 STEP 5: COMBINE

Add pasta to the sauce and mix with cooking water and Parmigiano.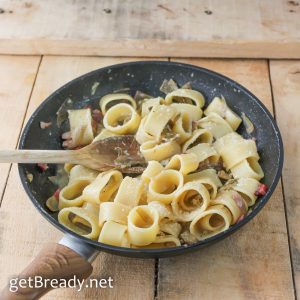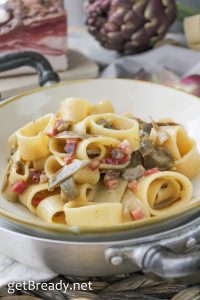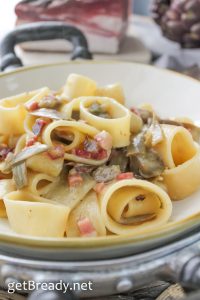 #getBready & enjoy your meal
Share on: