I know you don't know how to cook them anymore! In the summertime zucchini invade vegetable gardens, markets and our kitchen tables too!

Here is another (very greedy!) idea to exploit them properly …

If you want to dampen the sweet taste, I suggest you to combine zucchini with speck, thanks to its smoking flavor it will enhance their softness while perfuming food with the typical spices aroma.

Just puff pastry, ricotta and a little more ingredients are enough to make a beautiful savory pie and above all excellent!
SERVES 4 PEOPLE
READY IN 40′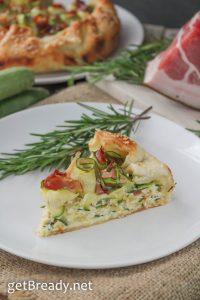 INGREDIENTS:
2 zucchini
1 teaspoon chopped onion
2 tablespoons extra virgin olive oil
Salt to taste
8,8 Ricotta cheese
1 egg
2 tablespoons Parmigiano cheese
Salt and pepper to taste
about 5,2 oz speck strips
1 teaspoon extra virgin olive oil
1 round puff pastry sheet (I used Stuffer)
2 medium zucchini
oil and salt to taste
5,2 oz very thinly sliced speck
1 tablespoon milk
extra virgin olive oil to taste
sesame seeds to taste
STEP 1: MAKE THE FILLING
Slice zucchini into small cubes.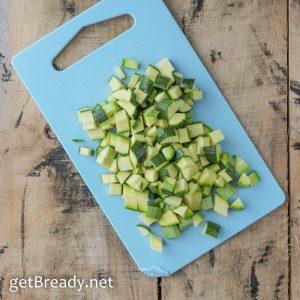 Sauté onion in oil for a couple of minutes,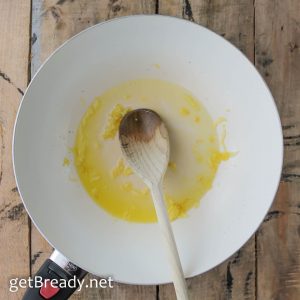 then add zucchini with a pinch of salt and cook covered by the lid for about 10 minutes.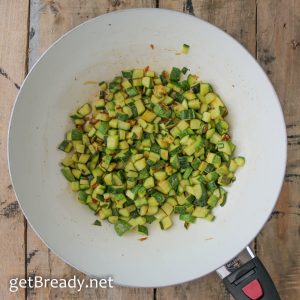 STEP 2: COMBINE
Coarsely mash zucchini with a fork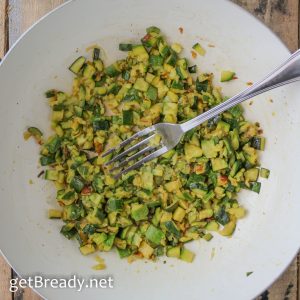 and add ricotta, egg, Parmigiano, salt and pepper.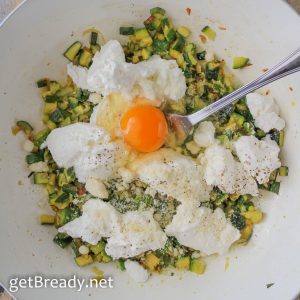 Separately, slice speck into very thin strips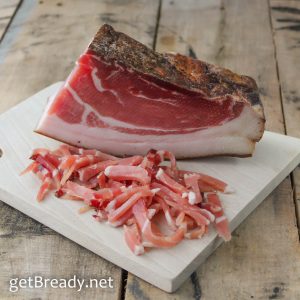 then brown in a saucepan with a drizzle of oil to make them crunchy.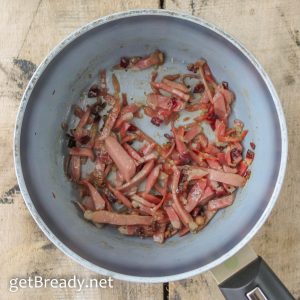 Now add it to the rest of the filling.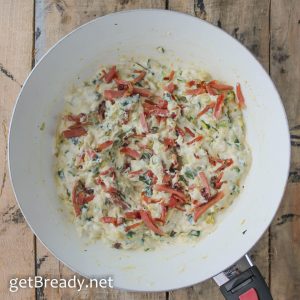 STEP 3: STUFF THE PIE
Unroll the puff pastry and transfer it to a 24 cm round baking pan with sides at least 2-3 cm high.
I recommend: always keep it on the supplied parchment paper and prick it here and there with a fork.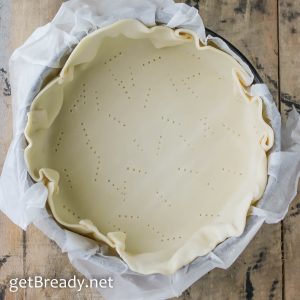 Add the previously prepared filling.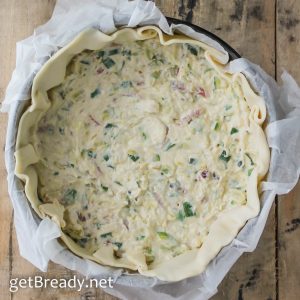 STEP 4: MAKE THE ROLLS
Wash the remaining zucchini (2), cut the ends and then slice them very thinly lengthwise (it's very easy if you use a potato peeler ;-))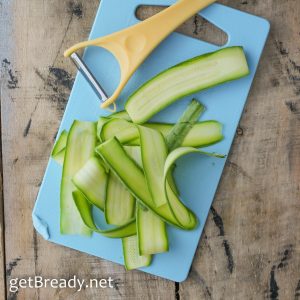 Season zucchini with oil and salt and let macerate just for 5 minutes to get easier to roll.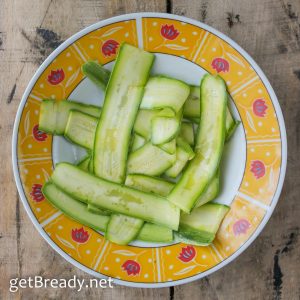 Place half a slice of speck on each zucchini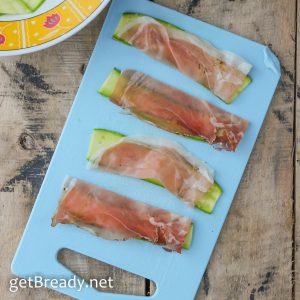 roll up and then place the rolls on the savory pie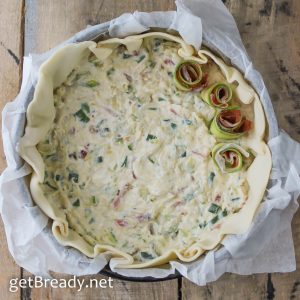 until it is completely covered. Now fold the edge of the puff pastry inwards without pressing too much,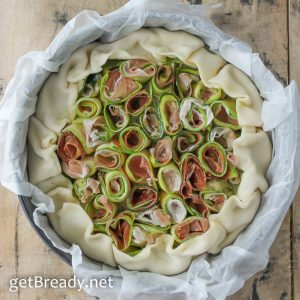 and brush with milk. Sprinkle the cake with a drizzle of oil and add the sesame seeds.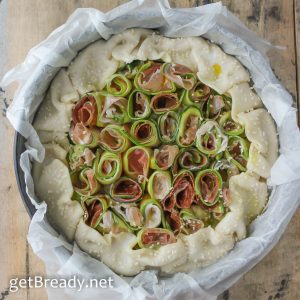 STEP 5: COOK
Bake the cake in preheated oven at 220 ° C for about 20 minutes.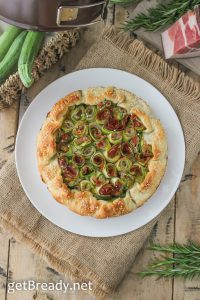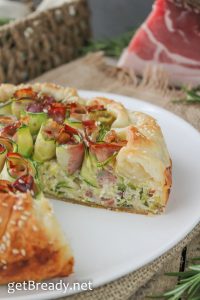 #getBready & enjoy your meal
Share on: