Boo!

Sometimes very little is needed to be on the ball! A very simple raw ham and mozzarella tart is transformed into a terrifying eye that looks at you from the center of the table.

Here is my Halloween very easy idea: ready in 15 minutes!

-> Watch the Reel <-
MAKES ab. 10-15 canapés
READY IN 15′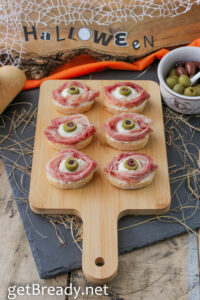 INGREDIENTS:
2 small loaves
1 mozzarella *
Salt and Pepper to taste
1 tablespoon extra virgin olive oil
5-6 pitted Taggiasca (or black) olives
approx. 15 pitted green olives
5-6 slices Crudo ham
* choose lactose-free products and this recipe will also be excellent for those who are lactose intolerant
STEP 1: SLICE THE LOAVES

Slice the loaves.
STEP 2: MAKE THE MOZZARELLA CREAM

Put mozzarella in the blender, add a pinch of salt, pepper and a spoonful of oil.
Blend to get a smooth cream.
STEP 3: SLICE THE OLIVES

Cut Taggiasca olives into 4 lengthwise.
Now insert a small piece of taggiasca inside the green olive, pressing with your fingers.
Here is the apple of your eye ready!
STEP 4: COMPOSE THE CANAPES

Take a slice of bread and spread a fairly thin layer of mozzarella cream over the entire surface.
Now add more cream to the center of the tart and shape it with the back of the spoon to create a protruding ball (this is the eyeball!).
Insert the stuffed olive into the center of the ball, pressing lightly with your finger to make it sink into the cream.
Be careful not to cover the pupil, but cover the white cream with Crudo ham, shaping it carefully.
And… boo! Enjoy your meal!
-> Watch the Reel <-
#getBready & enjoy your meal
Share on: