SERVES 4 PEOPLE
READY IN 1g 3,5h (including 1 g and 3 hours rest!)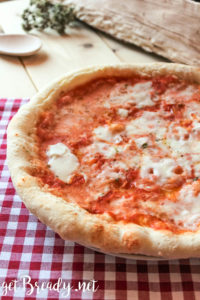 INGREDIENTS
1 lb 8 oz all- purpose flour
1 ½ cup lukewarm water
1 small piece yeast (about ½ oz)
2-3 handfuls salt (about ¾ oz)
all- purpose flour and semolina to taste (to roll out the pizza)
1 cup tomato sauce
3 mozzarella (about 300 g), cubed
salt, dried oregano, extra virgin olive oil to taste
STEP 1: PREPARE THE DOUGH
In a bowl, dissolve the yeast in the water and add about half of the flour. Mix with energy, then add salt and the remaining flour.
Move on the pastry board and continue kneading. You can stop when you get an  elastic dough ball (not perfect, the effect will be "orange peel"). If the dough is hard, it means the water isn't enough, so add a little.
STEP 2: RISE AND KNEAD
Rest the ball of dough for 30 minutes at room temperature, covered by a towel, then knead it for 10 seconds and repeat the 30-minute rest.
Do the same operation (10' reshuffle + 30'rest) three more times, then place the ball of dough in a bowl, covering it with plastic wrap, and store it back in the fridge (best in the lower part) for 24 hours.
After 24 hours, remove the dough from the fridge and let it temper for an hour (always into film covered bowl).
STEP 3: PORTIONING AND LAST RISE
On the pastry board,  divide the dough into 4 pieces forming 4 balls. Cover them and let them rise for about one hour (until doubled in volume).
STEP 4: STRETCH OUT PIZZA
On floured surface, start rolling out one by one the balls of pizza from the middle outwards with your fingertips. It's important not to crush the outer perimeter in order to get a nice cornice in cooking.
Persevere patiently until getting thin pizza, holding the dough with your left hand while the right widens the dough gently with circular movements of the fingers and palm.
STEP 5: FILL THE PIZZA
Place the rolled out dough on a circular cutting board (or any other functional support to transport it to the oven). Fill it  with two tablespoons tomato sauce, add salt to taste and mozzarella. Complete with  oregano and a drizzle of oil.
STEP 6: COOK THE  PIZZA
Place into the oven the pizza baking stone sprinkled with a little of  white flour and preheat oven to maximum temperature allowed.
When it's hot enough , transfer the pizza (with a quick movement) on the baking stone and cook it for about 5 minutes.
A piece of advice If you don't need all 4 pizzas, you can also freeze the dough after step 3.
To use it, you simply have to remove it from the freezer and let it thaw for 4 hours at room temperature, covered by plastic wrap. Then follow the recipe with steps 4, 5 and 6.
#getBready & enjoy your meal
Share on:
Salva