It has a delicate and tempting flavor tanks to aubergine and marjoram. An original veggie quiche for a family dinner or a party with friends.
MAKES 1 QUICHE
READY IN 1 h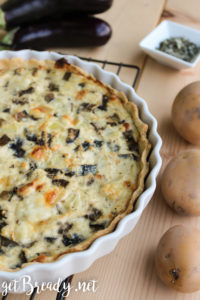 INGREDIENTS
2 potatoes
Water and coarse salt to taste
1 aubergine
3 tablespoons extra virgin olive oil
Salt to taste
Short crust pastry
Seed oil to taste
1 egg
Salt, pepper marjoram to taste
2 tablespoons Ricotta cheese
1 tablespoons  Parmesan cheese
5 oz cheese, cubed
Parmesan cheese to taste
STEP 1: COOK THE POTATOES
Cut potatoes into small cubes and cook them in boiling salted water for about 10 minutes.
STEP 2: COOK THE AUBERGINE
Cut the aubergine into small cubes and cook them in a pan with oil and salt on a low heat for about 10 minutes.
STEP 3: ROLL OUT THE SHORTCRUST PASTRY
In the meantime , roll out the short crust pastry. Cover a circular baking pan with cling film and then with the short crust pastry and place it into the fridge for 20 minutes.
STEP 4: COMBINE THE INGREDIENTS OF THE FILLING
In a bowl beat the egg and add: salt, pepper, marjoram, Ricotta cheese, Parmesan cheese, potatoes and aubergines . Mix carefully.
STEP 5: FILL THE QUICHE
Remove the baking pan from the fridge, add the filling and level it. Sprinkle with Parmesan cheese.
STEP 6: COOK THE QUICHE
Cook in preheated oven at 210°C for 22-25 minutes.
#getBready & enjoy your meal
Share on:
Salva
Salva