The smell of mushrooms recalls me home. A pretty simple recipe, for a genuine taste.
SERVES 4 PEOPLE
READY IN 30'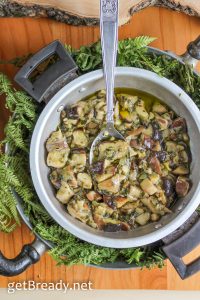 INGREDIENTS:
4-5 mushrooms (cep)
1 teaspoon onion, chopped
3-4 tablespoon extra virgin olive oil
1 clove garlic (remove the deeper part)
1 tablespoon parsley, chopped
Salt to taste
Water to taste
STEP 1: CLEAN THE MUSHROOMS
With a little knife remove the soil residue from the mushroom stem. Carefully twist the stem to divide it from the top of the mushroom. Now clean each part with a wet towel.
STEP 2: CUT THE MUSHROOMS
Cut the mushrooms into cubes (about 1,5×1,5 cm).
STEP 3: MAKE THE MIREPOIX
Place in a pan onion and oil, and let them brown. Add garlic.
STEP 4: COOK THE MUSHROOMS
Add the mushrooms, the parslet and the salt. Let them cook for 20-25 minutes. If necessary, add water.
A PIECE OF ADIVICE: in Italy mushroom is a yummy side-dish, but you can also combine it with béchamel sauce to fill delicious canelloni! Wanna try?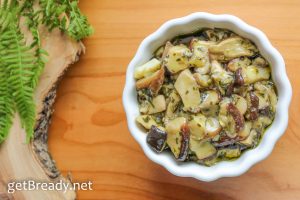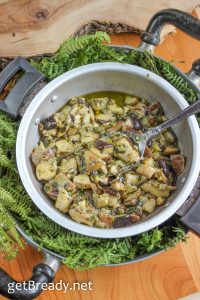 #getBready & enjoy your meal
Share on:
Salva
Salva
Salva
Salva
Salva
Salva