A quick and tasty recipe to prepare a yummy puff pastry flower with salmon mousse and broccoli! an appetizer idea or a delicious centerpiece for Christmas time too!

–> To the bottom for the VIDEO! <–
MAKES 1 FLOWER
READY IN 30′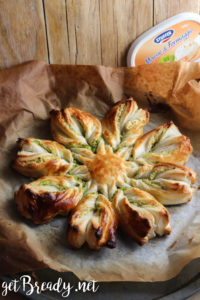 INGREDIENTS
1 puff pastry sheet  (I used the biggest one of Stuffer)
Salmon mousse (I used Stuffer)
Water and coarse salt to taste
1 broccoli
1 egg
Salt to taste
STEP 1: CUT THE PUFF PASTRY
Cut the puff pastry into two circles.
STEP 2: SPREAD THE MOUSSE
Spread the mousse on the first puff pastry circle.
STEP 3: COOK AND CUT BROCCOLI
Wash and cut broccoli into big pieces. Cook the pieces in boiling salted water for 10 minutes, then drain them and finely cut them with a knife.
STEP 4: FILL THE PUFF PASTRY
Place broccoli on salmon mousse.
STEP 5: SHAPE THE FLOWER
Cover broccoli with the second puff pastry circle . Place a small glass in the centre and slice the puff pastry into 16 pieces.
Now remove the glass and wrap the slices two by two (it's very easy to do, watch the video!). close well the edges.
STEP 6: SPRINKLE WITH THE EGG
Beat the egg with a pinch salt, then sprinkle the puff pastry with it.
STEP 7: COOK
Cook the puff pastry flower in preheated oven at 200°C for 15 minutes!
#getBready & enjoy your meal
Share on:
Salva
Salva
Salva
Salva
Salva
Salva