Even if the name recalls lunchtime, this is a sweet recipe!

Crispy outside and soft inside: how can you resist?

What's more? They are so smart: the dough is the same as #grostoli, so if you have some leftover you can prepare even those with less work!
MAKES ABOUT 30 BITES
READY IN 40'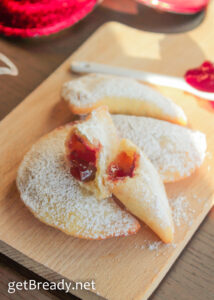 INGREDIENTS:
1 cup all-purpose flour
tablespoon sugar
1 pinch salt
3/4 oz butter, melted
1 egg
1 tablespoon rum
vanilla extract to taste
1 fluid ounce lukewarm milk
all-purpose flour to taste
cherry jam to taste
frying oil to taste
confectioner's sugar to taste
STEP 1: MIX THE INGREDIENTS
Place in a bowl: all-purpose flour, sugar and salt. Mix. Add: butter, egg, rum, vanilla extract and finally milk. Blend with a spoon and when it gets firm, knead it by hand.
STEP 2: LET IT REST

Cover the dough with cling film and let it rest for 20 minutes.
STEP 3: ROLL THE DOUGH OUT
Divide the dough into 3 pieces and using a rolling pin roll them out (on a lightly floured surface) as thin as possible. If you prefer you can also do it with a pasta maker.
STEP 4: FILL RAVIOLI
Cut about 30 circles (8 cm diameter) and place a teaspoon of jam in the centre of each. Close it well pressing the border with your finger.
STEP 5: FRY
Fry sweet ravioli in deep hot oil for about 6-8 seconds, then drain them.
STEP 6: ADD CONFECTIONER'S SUGAR
Sprinkle ravioli with confectioner's sugar.
#getBready & enjoy your meal
Share on: