The perfect recipe for those who:

want to give to Easter chocolate eggs a new life!
loves lindor taste (do you know the famous Lindt brand?)
is able to give up eating after the third bite!
trust me and my recipes 😉

Let's fall into chocolate:

 
MAKES 25/30 BITES
READY IN 30′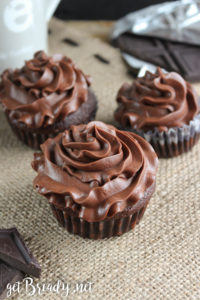 INGREDIENTS
7 oz all-purpose flour
3 tablespoons cocoa powder
1 teaspoon baking soda
1 pinch salt
5 oz butter (at room temperature)
6 oz sugar
2 eggs
½ glass fresh cream + 2 tablespoons lemon juice
1 glass milk + 1 tablespoon lemon juice
1 tablespoon cocoa powder dissolved into 2 tablespoons hot water
9 oz butter at room temperature
1 1/2 oz confectioner's sugar
1 pinch salt
8 oz chocolate, melted
STEP1: MIX THE DRY INGREDIENTS

In a bowl mix: all-purpose flour, cocoa, baking soda and salt.
STEP 2: MIX

Using an egg beater, beat the butter and the sugar. Add the eggs and finally the freshcream + lemon juice mixture. Add the dry ingredients, little by little, and finally the milk + lemon juice mixture.
STEP 3: PLACE MIXTURE IN WRAPPERS

Place the mixture in the wrappers (3/4 full), then place them in a muffin tin.
STEP 4: COOK THE  CUPCAKES
Cook the cupcakes in preheated oven at 180°C for about 10 minutes.
STEP 5: MAKE THE FROSTING

Melt cocoa in hot water, then let it cool.
In a bowl beat the butter with the sugar and salt for 10 minutes. Add melted chococlate (when cold!) and finally the water + cocoa mixture.
STEP 6: DECORE THE CUPCAKES
Place the frosting in a frosting piper and decore the cupcakes.
#getBready & enjoy your meal
Share on: