I realized that I love it when I turned 30.


I never had much of a taste for Blue cheese, 'til I decided to try it on pizza. Since then we fell in love.
SERVES 4 PEOPLE
READY IN 1g 3,5h (including 1 g and 3 hours rest!)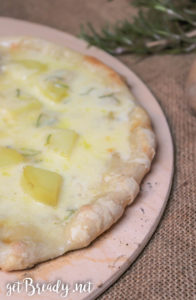 INGREDIENTS
1 lb 8 oz all- purpose flour
1 ½ cup lukewarm water
1 small piece yeast (about ½ oz)
2-3 handfuls salt (about ¾ oz)
all- purpose flour and semolina to taste (to roll out the pizza)
extra virgin olive oil to taste to taste
3 mozzarella, cubed
2 boiled potatoes, cubed
salt, rosemary, extra virgin olive oil to taste
STEP 1: MAKE THE DOUGH

to make the dough follow steps 1 to 3 at this page: click here
if you've defrosted a dough ball, read the following step 4.
STEP 4: STRETCH OUT PIZZA
On floured surface, start rolling out one by one the balls of pizza from the middle outwards with your fingertips. It's important not to crush the outer perimeter in order to get a nice cornice in cooking.
Persevere patiently until getting thin pizza, holding the dough with your left hand while the right widens the dough gently with circular movements of the fingers and palm.
STEP 5: FILL THE PIZZA
Place the rolled out dough on a circular cutting board (or any other functional support to transport it to the oven). Brush the dough with some oil, the fill it  with mozzarella, Blue cheese and potatoes. Add salt and rosemary to taste.
STEP 6: COOK THE  PIZZA
Place into the oven the pizza baking stone sprinkled with a little of  white flour and preheat oven to maximum temperature allowed.
When it's hot enough , transfer the pizza (with a quick movement) on the baking stone and cook it for about 5 minutes.
#getBready & enjoy your meal
Share on: