How to combine north and south Italy? Here is the answer! Let's taste Italian traditions with this recipe: Tyrolean small gnocchi with seafood sauce. An unexpected gluttony!
SERVES 4 PEOPLE
READY IN 45'
INGREDIENTS
5/6 muscardini
1 monkfish slice
ab. 12 shrimps
3 tablespoons extra virgin olive oil
1 teaspoon onion, chopped
ab 10 cherry tomatoes
1 cup mashed tomatoeas
Salt and pepper to taste
3 eggs
½ cup water
9 oz all-purpose flour
½ oz extra virgin olive oil
Nutmeg and salt to taste
Water and coarse salt to taste
STEP 1: CLEAN THE FISH

Devein muscardini: remove the head inside, the eyes and the beak, then slice them. Remove the bone from the monffish and slice the fish.
Peel and devein shrimps.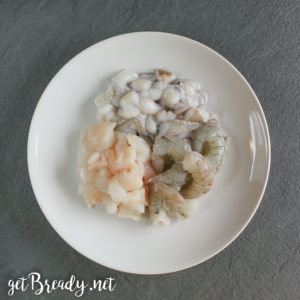 STEP 2: MAKE THE SAUCE

Place onion and oil in a large pot and let them sautè. Add cherry tomatoes nd mashed tomatoes and cook (covered with a lid)for about 10 minutes.
Now add the fish:  first add muscardini and cook for 15 minutes, then add salt, pepper, monkfish cubes and shrimps. Cokk for 3-4 minutes.
STEP 3: MAKE THE SPATZLE
In a bowl, beat well eggs and water. Add flour, oil, nutmeg and salt and mix until smooth. Let the mixture stand for 20 minutes.
STEP 5: COOK THE SPATZLE
Cook the spatzle in boiling salted water for 2 minutes, pressing the dough through the spaetzle maker (or a large holed metal grater). Drain and add them at the fish sauce.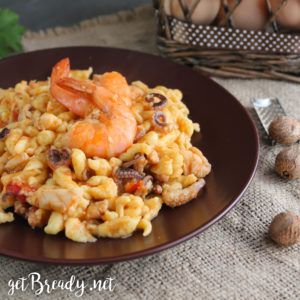 #getBready & enjoy your meal
Share on: