Tender and juicy.

Today's recipe is classic braised meat, the so-called "brasato", marinated overnight and cooked very slowly. Special because of creamy and velvety vegetables, ideal for "scarpetta" (do you know it?).

How to understand if it works? Just ask your family: "is it good?" If they answer is: "it's like butter! It melts in your mouth "the goal has been reached 🙂 !!!
SERVES 4-5 PEOPLE
READY IN 2,5 h (+ marinade time)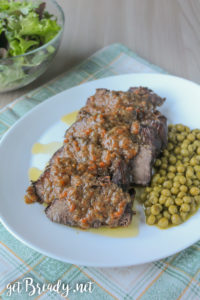 INGREDIENTS:
24,5 oz beef
2 glasses red wine
2 cloves
Thyme, bay leaves, rosemary and sage leaves to taste
Flour to taste
3 tablespoon extra virgin olive oil
1 teaspoon butter
1 carrot
1 celery stalk
½ onion
1 glass red wine
2 bay leaves
1 cup boiling water
vegetable stock powder to taste
STEP 1: MARINATE THE MEAT
Place wine, the cloves and herbs in a large bowl. Add meat, cover with plastic wrap and place the bowl into the fridge all night long.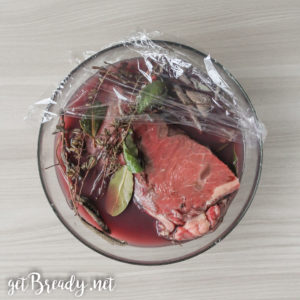 STEP 2: BROWN MEAT
The day after, drain meat from the marinade and dry it with kitchen paper.  Sprinkle with flour.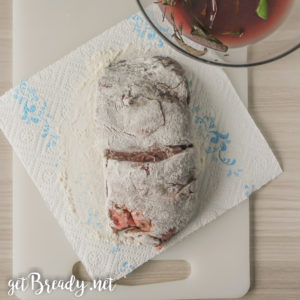 In the meantime, melt the butter in the oil in a large pan. Add meat and brown 1-2 minutes per side.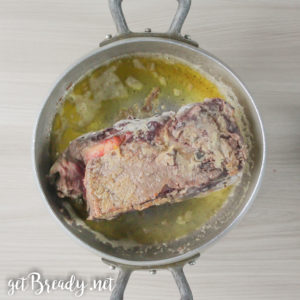 STEP 3: ADD VEGETABLES
Peel the carrot and cut it into cubes. Do the same with onion and celery.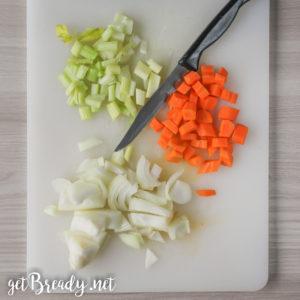 Now add vegetables to the meat,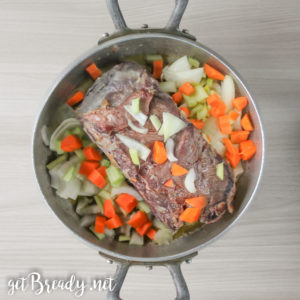 continuing cooking  covered with the lid for about 10 minutes.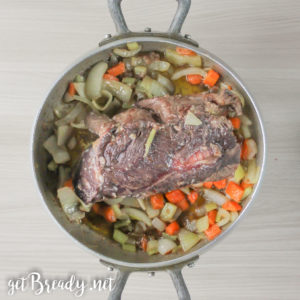 STEP 4: ADD WINE AND WATER
Simmer with red wine until reduced,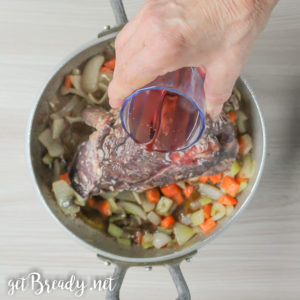 then add two bay leaves, a glass of hot water and cook on low heat for 2 hours adding vegetable stock powder.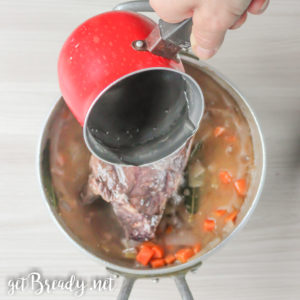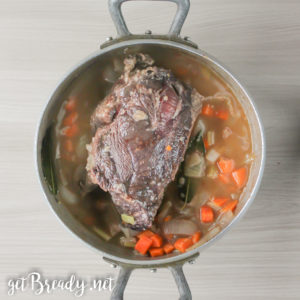 STEP 5: SLICE IT
When cooked, remove from heat and let the braised beef cool directly in the pot;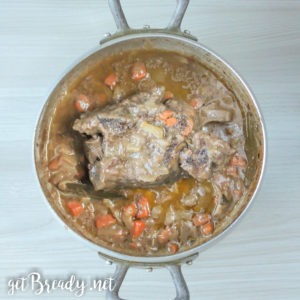 then place it on a cutting board and slice it (if cold it's easier!)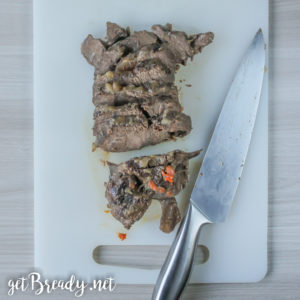 STEP 6: THICK THE SAUCE
If you like whole vegetables you can simply put the braised slices into the pan and gently warm.
If you prefer a creamy sauce, blend vegetables, then add hot water and warm it.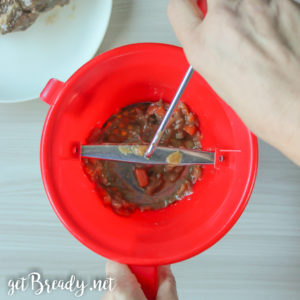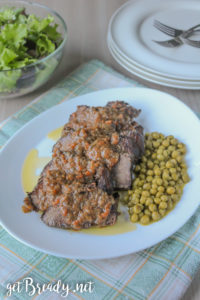 #getBready & enjoy your meal
Share on: