Tomorrow will be women's day.

In this difficult period, which force us to be responsible – more responsible – for the safety  of our families, but also that one of  the baker where you go every day, as well as of the stranger next to whom we wait in line, we cannot however think not to celebrate.

Maybe we'll do it in a different, new way for those like me who have never experienced a situation like this before.

Let's take advantage of it to enjoy the family and keep calm, confident and above all careful to respect the rules.

Happy Women's Day everybody!

PS: Oh yes, at step 3 of the recipe a muffin is missing … sorry, I couldn't resist!
MAKES 12 MUFFINS
READY IN 30'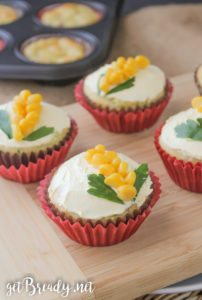 INGREDIENTS:
1 egg
salt and pepper to taste
2 tablespoons corn oil
½ cup milk at room temperature
3-4 tablespoons of Parmigiano cheese
3,5 oz flour
0,5 oz instant yeast
1 courgette
2 oz ham, cubed
3,5 oz robiola cheese (fresh cheese)
1 pinch saffron
1 teaspoon hot water
Parsley and pre-cooked corn to taste
STEP 1: MAKE THE MIXTURE
Place egg, salt and pepper in a bowl and beat with a fork.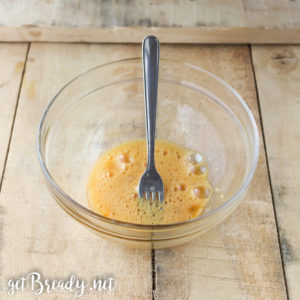 Add oil, milk and Parmigiano mixing the mixture.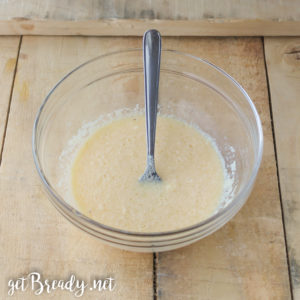 Now add the sifted flour and yeast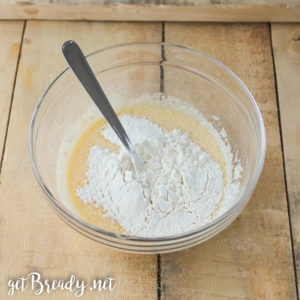 and whip with a whisk.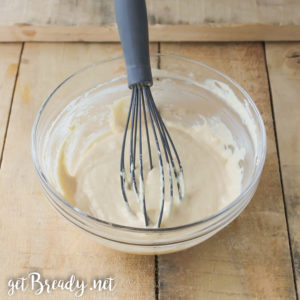 STEP 2: ADD THE STUFFING
Grate a courgette and add it to the dough together with ham.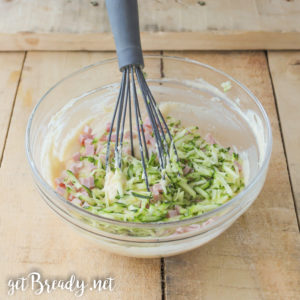 STEP 3: PLACE INTO THE MOLDS AND COOKS
Place the baking cups in the muffin pan and fill them with the mixture.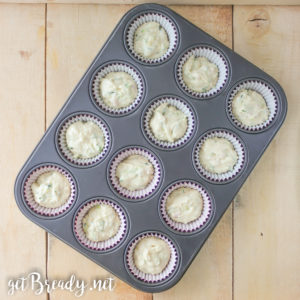 Bake in a preheated oven at 180 ° C for 15-20 minutes. Once cooked this will be the result: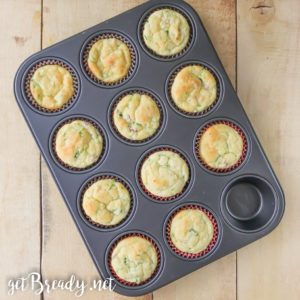 STEP 4: MAKE SAFFRON CREAM
In a bowl mix Robiola with saffron dissolved into water.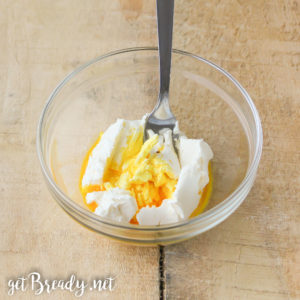 STEP 5: DECORATE
With a teaspoon spread the surface of the muffins with the saffron cream.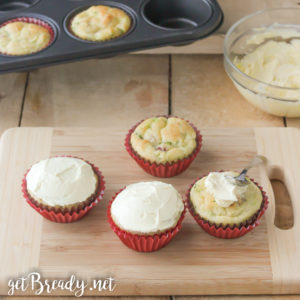 Cut a few leaves of parsley and arrange it on top of the cream, while with the corn draw a stylized mimosa flower.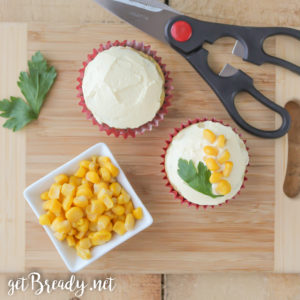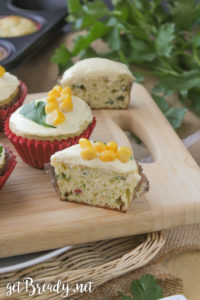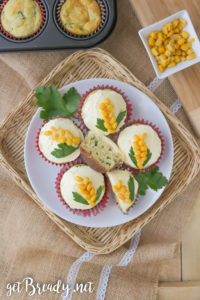 #getBready & enjoy your meal
Share on: