Today we're having a super juicy classic: beef stew with tomato sauce.

The secrets to prepare it properly are very few and simple: real tender morsels and an irresistible creamy sauce will make you fall in love.

Ready for "scarpetta?"
DOSI PER 4 PERSONE
PRONTO IN 2 h 40'
INGREDIENTS
1 lb beef
1-2 tablespoons all- purpose flour
1 carrot, small
½ onion
½ stick celery
3-4 tablespoons extra virgin olive oil
½ teaspoon Rosemary, chopped
1/4 glass white wine, dry
3-4 cups boiling water
1 cup masse tomatoes
2 teaspoons vegetable stock powder (click for the recipe)
STEP 1: SLICE MEAT
Slice meat into cubes and sprinkle with all-purpose flour.
STEP 2: SAUTé THE VEGETABLES
Finely chop (or if you prefer blend) carrot, onion and celery, then place then in a non-stick pan wit oil an rosemary and sauté for a few minutes.
STEP 3: ADD THE MEAT
Add lightly floured meat to the pan and let it brown blending with a spoon.
Simmer with white wine and, when reduced, down heat to low.
STEP 4: ADD THE REMAINING INGREDIENTS
Add a cup of boiling water, mashed tomatoes and a teaspoon of vegetable stock powder.
Cook for 2 hours, adding occasionally hot water. Ten minutes before turning off,  taste it and if necessary add another teaspoon of vegetable stock powder.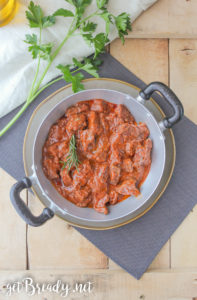 #getbready & enjoy your meal
Share on: