What's better than pasta? especially with a juicy sauce?

If you are of the same opinion, you cannot resist o try the rib sauce: easy to prepare and rich in taste!

… and then don't worry, at the first step of the recipe I'll tell you the secret to make it a little lighter 😉

 
SERVES 6-8 PEOPLE
READY IN 1h 20'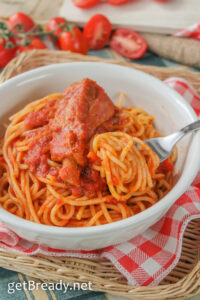 INGREDIENTS:
17,5 oz pork ribs
Water to taste
3-4 tablespoons extra virgin olive oil
¼ onion, chopped
1/2 celery stick
1 carrot
24,5 oz mashed tomatoes
2 bay leaves
1/2 teaspoon sugar
Salt to taste
STEP 1: BOIL THE RIBS

Place the ribs in a saucepan, cover them with water and boil. Let them cook for 3-4 minutes to degrease, then drain and keep them aside.
STEP 2: SAUTE'
In a pot saute' oil + vegatble for about 3 minutes.
STEP 3: COOK

Add mashed tomatoes and cook over meadium heat for 10 minutes. Add the ribs, the bay leaves, and cook for 1 more hour. Halfway through cookingadd sugar and salt.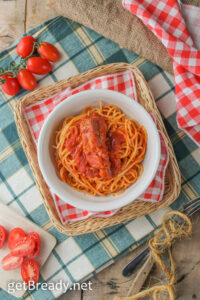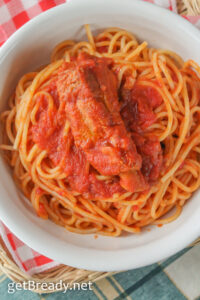 #getBready & enjoy your meal
Share on: