I love savory leavened products!

It's so satisfying  when you knead and then watch bread growing in the oven!

And here is a great way not only to enjoy a bakery show, but also to enjoy something very good!

I prepared this salty braid by adding walnuts to the dough and stuffing it with delicious cheese!

You just have to get your hands on it!
SERVES 4 PEOPLE
READY IN 3h 20'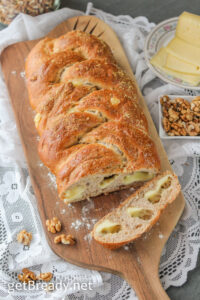 INGREDIENTS:
½ cube of brewer's yeast
5,6 oz water + milk in equal parts
1 pinch sugar
10,5 oz flour
1 yolk
4 tablespoons chopped walnuts
2 tablespoons extra virgin olive oil
3 pinches salt
Flour as needed
5 oz cheese to taste (I used Monte Veronese)
1 egg yolk
1 tablespoon  water
1 pinch salt
1-2 tablespoons Parmigiano cheese
STEP 1: MELT THE YEAST
Dissolve the yeast in a bowl with water, milk and sugar.
STEP 2: MAKE THE DOUGH
Add flour, egg yolk, walnuts, oil and salt to the bowl.
Knead for a few minutes. You will get a rather sticky dough.
STEP 3: LEAVENING
Let the dough rise at room temperature for about a couple of hours.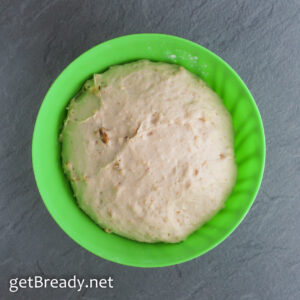 STEP 4: ROLL OUT THE DOUGH
Place the dough on a floured pastry board and roll it out with a rolling pin to get a rectangle of about 30×27 cm.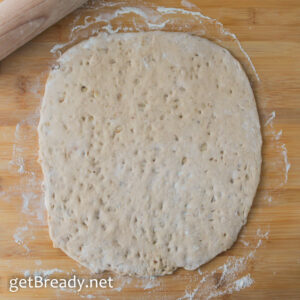 cut it into three strips
and stuff them with the cheese cubes
Close each dough strip by pinching so that the filling does not come out during cooking.
You will have obtained 3 sausages.
STEP 5: SHAPE THE BRAID
Now pinch the upper ends of the three sausages together to fix them.
And continue doing the braid.
Once the braid is finished, press with your fingertips to lock it also on the bottom.
STEP 6: 2nd LEAVENING
Transfer the braid to a baking sheet lined with parchment paper and brush it with the mix of yolk, water and salt.
Let it rise at room temperature for about 40 minutes.
STEP 7: COOK
Sprinkle the braid with Parmigiano and bake it in a preheated oven at 200 ° C for about 30 minutes.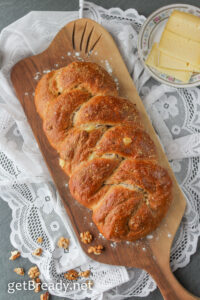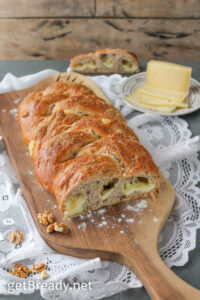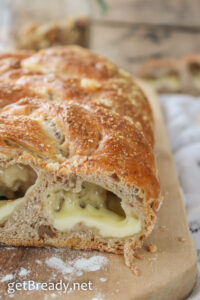 #getBready & enjoy your meal
Share on: