Here it is: a simple and quick idea to make a delicious and also very nice dessert.

    To make it, I took advantage with a ready-to-cook short crust pastry, stuffing it with mascarpone custard and delicious cherries in syrup!

    It takes very little to celebrate with the family.
MAKES 16-18 BITES
READY IN 18′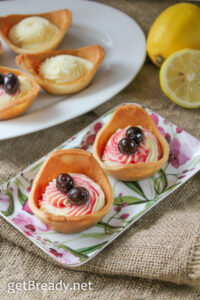 INGREDIENTS:
3,5 oz whipping cream
7 oz custard (click for my recipe)
2 tablespoons mascarpone cheese (I used Stuffer)
1 shortcrust pastry sheet (I used Stuffer)
butter to taste
milk to taste
cherries in syrup to taste
STEP 1: WHIP THE CREAM

Using the electric whisk, whip the cream.
STEP 2: COMBINE CREAM AND CUSTARD

Combine cream, mascarpone and custard using a spoon.
STEP 3: MAKE SHORTBREAD NESTS
Unroll the shortcrust pastry keeping it on the supplied parchment paper. Using a circular cookie cutter (or a glass) make about 18 circles.
Take a muffin pan and turn it upside down (to give the nest shape and prevent the dough from falling into the hollow during cooking we will use it upside down).
Brush the "little mountains" with softened butter, then place a circle of dough on top, making it adhere and gently stretching it downwards (this will create the nests).
Now brush the dough with milk.
STEP 4: COOK THE NESTS

Cook the nests in preheated oven at 180°C for ab. 12-15 minutes (until golden).
Once cooked, take the pan out of the oven and let the nests temper before turning them upside down.
STEP 5: FILL
Put the cream in a pastry bag and fill the nests.
Decore adding cherries and syrup.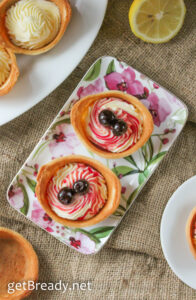 #getBready & enjoy your meal
Share on: