One of the most delicious way to taste artichokes.

I really love them!
MAKES 15 bites
READY IN 30'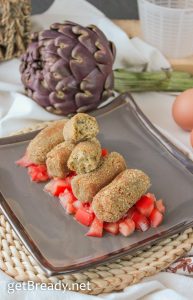 INGREDIENTS:
2 artichokes
2 tablespoons extra virgin olive oil
1 tablespoon chopped onion
2 tablespoons water
Salt to taste
3,5 oz Ricotta cheese
3 tablespoons Parmigiano cheese
4-5 tablespoons breadcrumbs
1 egg
Salt and pepper to taste
Breadcrumbs to taste
Oil for frying to taste
STEP 1: CLEAN THE ARTICHOKES
Rub your hands with lemon juice to avoid staining them cutting artichokes.
Take an artichoke and cut the tip with a knife. Start removing by hand the outer leaves (the hard ones) until you reach the heart. Cut the stem of the artichoke and peel it with a potato peeler until you reach the inside part. Cut the artichoke into pieces of approx 0.5 x 0.5 and put them into the water bowl  prepared before.
Continue cutting in half the hearts of artichokes and remove the beard kept inside.
Take all the cutten parts of artichokes and cut into strips. Important: while working with the knife, keep cutten artichokes in water to prevent them from blackening.
STEP 2: COOK THE ARTICHOKES
Place oil and onion in a pan and let it brown. Then add sliced ​​artichokes, water and cook with the lid on for about 15 minutes, adding salt to taste.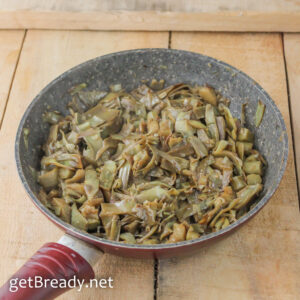 STEP 3: ADD THE REMAINING INGREDIENTS
Blend the artichokes to get a cream, then place it in a bowl and add Ricotta, Pamigiano, breadcrumbs and egg. Season with salt and pepper.
You'll get a soft and fairly dry dough, easy to handle (if it is too sticky, add more breadcrumbs).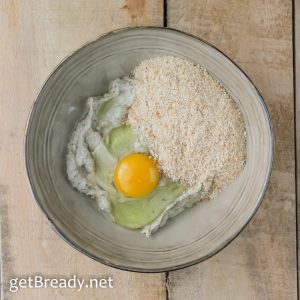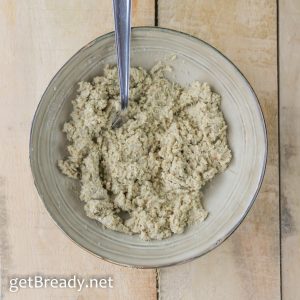 STEP 4: SHAPE THE VEGGIEBALLS
Take a knob of dough and give it a cylinder shape rolling by hand.
Dip the balls in breadcrumbs.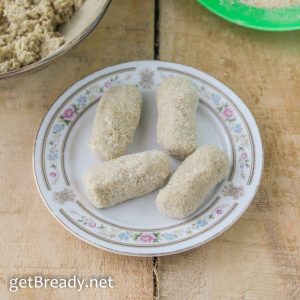 STEP 5: FRY
Fry the balls in hot deep oil for about 3-4 minutes, then drain and place on kitchen paper.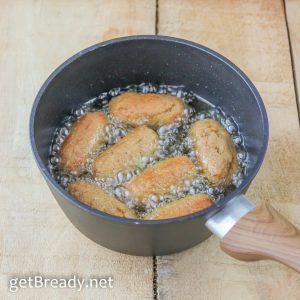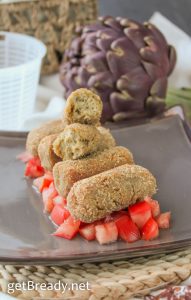 #getBready & enjoy your meal
Share on: