Be careful: that's not a sweet French mademoiselle, but a delicious Neapolitan specialty!

    "Parigina" – that sounds like "The Parisian" is a rustic that has been part of the Neapolitan rotisserie since the mid-18th century, when it was created at the Borbone court. It's a pizza traditionally seasoned with tomato, cheese and ham and covered with a puff pastry layer.

    Could I not put mine in there ??? So I wanted to try it with a delicious filling made with sausage, spinach and cheese.

    Must try guys!

TO THE BOTTOM FOR THE VIDEO!
SERVES 4 people
READY IN 25′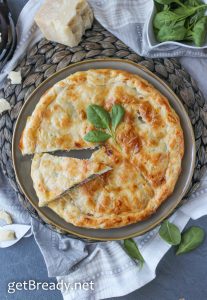 INGREDIENTS:
3 sausages
water to taste
1 pizza dough sheet (I used Stuffer)
7 oz boiled spinach
7 oz fresh cheese (I used strachino)
2 tablespoons Parmigiano cheese
1 puff pastry sheet (I used Stuffer)
1 egg yolk + 1 pinch salt
STEP 1: BOIL THE SAUSAGES

Using a fork prick the sausages, then dip them in boiling water and cook for 8 minutes to degrease. Drain and slice.
STEP 2: STUFF YOUR PIZZA BASE 
Unroll the pizza base by keeping it on the parchment paper and placing it on a round baking tray. Crumble the slices of sausage on the pizza, add the spinach, strachino and Parmigiano cheese.
STEP 3: COVER WITH PUFF PASTRY 
Place the puff pastry on top of the filling, matching the perimeter with that of the pizza base below. Press with your fingers to seal the entire edge well, then pinch it to prevent the filling from coming out during cooking. Prick the pastry with a fork to make small holes. Now brush with the yolk and salt mix.
STEP 4: COOK 
Bake the Parisian cake in a preheated oven at 220 ° C for about 15 minutes.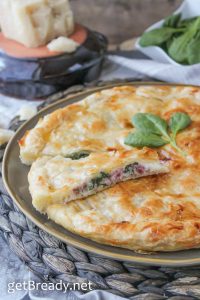 #getBready & enjoy your meal
Share on: